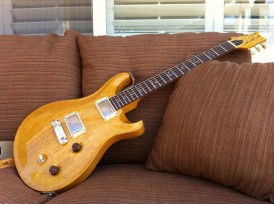 White Korina wood, also known as African limba, provides a thick solid tone much like mahogany wood is known for. Korina wood is also the same high-quality wood used for many of the early [Gibson] Flying Vs and Explorers that now demand such high dollar. Notably, a Korina wood Ibanez Destroyer guitar had played a large part in Eddie Van Halen's legendary "brown" sound. A nice piece of lightweight wood, like the ones used to construct the Korina McCarty guitars, provides renowned dimensionality and depth, screaming highs, rich rounded mids, thick lows while providing vocal-like velvety warmth backed with tremendous sustain.
The Korina McCarty's body is carved from sold slab of Korina wood, as is the 22-fret thick-wide neck. For those who have not played the liked PRS carved neck, it's a beefy C shape that's positioned into the 25-scale body. The chrome-covered McCarty humbuckers are similar to the highly commended humbuckers in the standard McCartys, and a Duncan-wound soap-bar is offered as an option for those who want something a little more unique. Vintage style tuners and a fixed aluminum bridge add a touch of sparkle to the Korina McCarty's highs.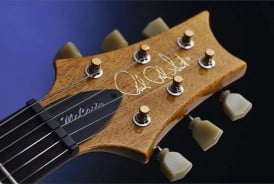 Like the PRS Mira, the PRS Korina McCarty confirms that a guitar doesn't need a maple top to sound excellent. The Korina produces all of mahogany's warmth with more definition in the bass and a more dynamic response. The well-defined midrange harmonics are also dazzling—2nd-,3rd- and 4th-fret harmonics pop clearly from this McCarty, even with a clean amp setting. When needed, treble response can be sharp but not piercing. It's a sound enthusiast call "refined" because the pronounced highs and loose lows are balanced to create a bolstering prominent midrange.
The PRS McCarty's highly developed and defined tone just sings, but through an amp that has plentiful gain, it could be likened to Santana's heavier sounds or when you turn up the gain or turn the treble down and comp out some cool jazz lines. Korina McCarty does every style well, rock, jazz, country, etc… a sound to remember.
Listen to this guitar in action at ArtisanGuitars.com by clicking – Sound bites: PRS Korina McCarty Guitar. Visit prsguitars.com to see more of PRS guitars.
Video: PRS McCarty Korina