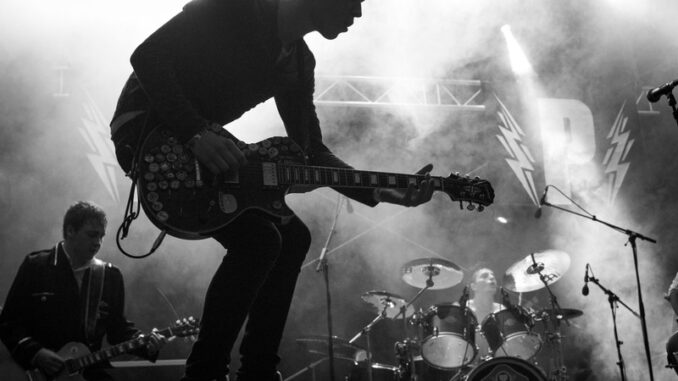 Let's take a look at 4 killer Marshall stompboxes to help shape your guitar tone. In this review, we will sit down and play all 4 pedals, and also includes video tone sample. You want to hear how kickass these Marshall Pedals sound, right?
Pedals in review:
BB-2 Bluesbreaker II
SV-1 Supervibe Chorus
ED-1 "Edward" Compressor Pedal
VT-1 Vibratrem
BB-2 Bluesbreaker II

Modeled after Marshall's original Bluesbreaker pedal, the BB-2 offers two modes instead of one. The unit's clean, but merciless boost function can pummel an amp's input stage or drive long cables without altering the tone of your guitar, while the blues mode uses the pedal's drive and tone controls to create a wide range of valve-like overdrives rich in 2nd-order harmonics.
The Bluesbreaker II worked extremely well with a vintage Marshall Super Lead, producing no low-end loss when interacting with the amp's power tube distortion. It's performance was equally commendable with a Blackface Fender Reverb, where the BB-2's ultra-musical crunch was plainly in evidence.
The End Line
The BB-2 Bluesbreaker is a great pedal. The blues feature delivers nice, smooth drive which allows for singing highs and roaring lows. The boost feature is a bonus considering the cost of this pedal. The boost feature delivers a nice clean "BOOST" to your signal, which can be used for soloing on an already distorted amp.
I was also impressed by the fact that the BB-2 got in Hendrix like "fuzzy" territory, simply by using the blues function with the amp setting just a tad bit dirty. I use the BB-2 coupled with my crybaby classic and, I must say, that doubled the Hendrix vibe.
Overall: Wonderful Pedal I would recommend it to anyone that likes the blues but also want that extra "BOOST". I wouldn't recommend this pedal with solid state amps. The Marshall BB-2 Bluesbreaker II can be had at a very reasonable price.
Marshall BB-2 Bluesbreaker II Video Demo
Marshall SV-1 Supervibe Chorus

MARSHALL based this stereo pedal on the chorus circuitry of their popular AS80R and VS265R Valvestate amps. Considering the top-notch performance of the SV-1, that seems to have been a sound decision. In addition to lush, ensemble effects, the SV-1 also does an admirable job creating convincing rotary speaker effects with its speed control maxed out. Lo-fi vintage effects can be easily created with the filter control, which allows for high-frequency attenuation.
The extra-sexy wave control lets you choose or blend between fixed- and variable-speed low-frequency oscillators, a feature you'd normally expect to find heavy-duty rack-mounted multi-processors. Like the Vibratrem, the SV-1 meets with a chorus approval. The Marshall SV-1 Supervibe Chorus can be had at a very reasonable price.
Marshall ED-1 "Edward" Compressor Pedal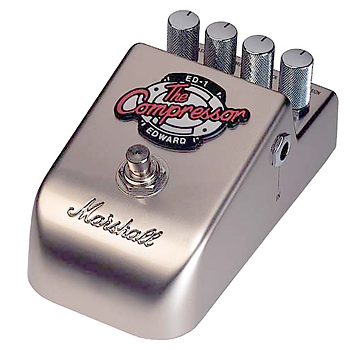 Producing a smooth, even sustain that faintly recalls the tone of a certain Dutch-born shredder, the "Edward" is a valuable tool for tone-conscious players who need to vary the sustain and attack of their guitar's sound. The ED-1 is capable of creating everything from smooth legato leads to funky clean chords to choppy chicken pickin'.
Kudos for the nifty emphasis control, which allows the compression effect to be assigned to particular frequencies. Although its effect is imperceptible through the first half of its sweep, the control can be used to give bass notes a much-needed squash while leaving the treble register virtually unaffected.
The End Line
For the money, the Marshall ED-1 Edward Compressor Pedal is one of the superior sustainer's out there. Very easy to use, with somewhat noticeable but subtle tonal differences, the Marshall ED-1 has great features and gets the job done. Marshall ED-1 Edward Compressor can be had at a very reasonable price.
Marshall VT-1 Vibratrem

While this pedal could more aptly be named the "Radiohead," that's the only complaint we have about this superlative stereo vibrato/tremolo pedal. Although designed to replicate the warm, pulsating slutter of the classic circuit found in Vox amplifiers, the VT-1 adds such modern amenities as adjustable speed and depth controls and a sweepable wave control that allows the modulation waveform to be reshaped form a mellow triangle to an intense square. And while distorted amp settings would render a less-muscular tremolo virtually inaudible, the Vibratrem came through loud and clear. Warm, natural and, when necessary, even gnarly, this unit delivers as well as many fancy-pants boutique units costing twice as much. The Marshall VT-1 Vibratrem can be had at a very reasonable price.