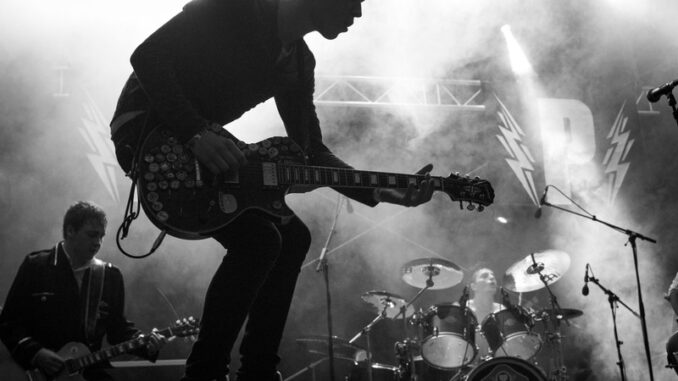 Let's take a look at 4 killer Marshall stompboxes to help shape your guitar tone. In this review, we will sit down and play all 4 pedals, and also includes video tone sample. You want to hear how kickass these Marshall Pedals sound, right?
Pedals in review:
BB-2 Bluesbreaker II
SV-1 Supervibe Chorus
ED-1 "Edward" Compressor Pedal
VT-1 Vibratrem
BB-2 Bluesbreaker II

Modeled after Marshall's original Bluesbreaker pedal, the BB-2 offers two modes instead of one. The unit's clean, but merciless boost function can pummel an amp's input stage or drive long cables without altering the tone of your guitar, while the blues mode uses the pedal's drive and tone controls to create a wide range of valve-like overdrives rich in 2nd-order harmonics.
The Bluesbreaker II worked extremely well with a vintage Marshall Super Lead, producing no low-end loss when interacting with the amp's power tube distortion. It's performance was equally commendable with a Blackface Fender Reverb, where the BB-2's ultra-musical crunch was plainly in evidence.
The End Line
The BB-2 Bluesbreaker is a great pedal. The blues feature delivers nice, smooth drive which allows for singing highs and roaring lows. The boost feature is a bonus considering the cost of this pedal. The boost feature delivers a nice clean "BOOST" to your signal, which can be used for soloing on an already distorted amp.
I was also impressed by the fact that the BB-2 got in Hendrix like "fuzzy" territory, simply by using the blues function with the amp setting just a tad bit dirty. I use the BB-2 coupled with my crybaby classic and, I must say, that doubled the Hendrix vibe.
Overall: Wonderful Pedal I would recommend it to anyone that likes the blues but also want that extra "BOOST". I wouldn't recommend this pedal with solid state amps. The Marshall BB-2 Bluesbreaker II can be had at a very reasonable price.
Marshall BB-2 Bluesbreaker II Video Demo