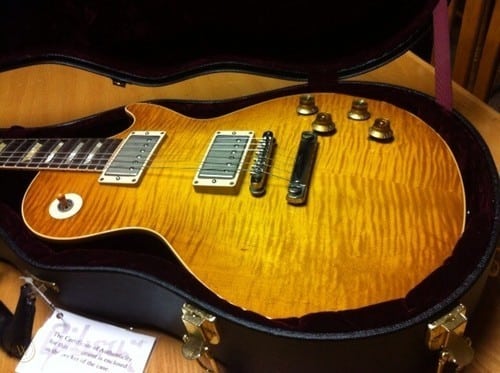 The 1959 Les Paul Standard is perhaps the most iconic electric guitar in the world to many guitarists. Among 1959 Les Pauls, the one that belonged to tortured Fleetwood Mac blues genius Peter Green and later to Thin Lizzy guitarist/blues-rock god Gary Moore stands tall even in such an elite class.
Peter Green helped establish the Les Paul as the high water mark that it is today and generations of Paul players have turned their neck pickups backwards in imitation of him. Now, in another questionable marketing move in a long string of such brainstorms, Gibson is making a reissue of this superstar instrument but is naming it after the wealthy collector who currently owns it rather than after the men who actually played it.
The Gibson Collector's Choice Melvyn Franks 1959 Les Paul Standard V.O.S. is that guitar and, while all the details about it are not clear, it seems to be a Gibson Custom Shop version of what, to many, is the ultimate Holy Grail electric guitar. It is part of the new Collector's Choice series, which is meant to replicate some of the finest examples of Gibson guitars from the private stashes of certain super collectors who have ended up with them.
The Melvyn will, of course, be produced in very limited numbers: 100 guitars that will be aged by grit guru Tom Murphy and 300 V.O.S. (Vintage Original Spec) versions. Gibson claims that this is their most accurate Les Paul reissue ever, but they say that every time they bring a new one to market, which would bum me out if I had happened to purchase last years' "most accurate" version. The real problem with the Melvyn, fine guitar though it may be, seems to send the message that, if you are rich enough, you can get your own Gibson signature model without having to go through all the bother of becoming a world-renowned guitar player.
We all know that Gibson is drunk on high-dollar namesake models but how do you not call this a Peter Green model and still sleep at night? It is becoming more and more clear that Gibson only cares about their most affluent customers, which is a real shame. What's next? The Donald Trump Burst? I think I am gonna take a ride to Kalamazoo and shop for a Heritage guitar…
Melvyn Franks 1959 Gibson Les Paul Standard