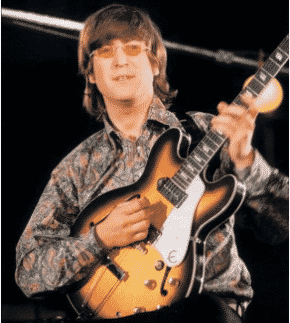 In November 1997 a team from Epiphone Guitars visited "The Dakota" in New York to examine John's Casino. During the meticulous examination, countless measurements were taken, body tracings were done and all components of the guitar were photographed. As a result and in cooperation with Yoko Ono, Epiphone guitars proudly introduced the Limited Edition John Lennon "Revolution" 1965 Casinos.
Revolutionary -The John Lennon Limited Edition Casino
The "John Lennon 1965 Casino" is a reproduction of the guitar as John originally purchased it with the sunburst finish and stock hardware. The "John Lennon Revolution 1965 Casino" is a reproduction of the "stripped" guitar featuring one dull coat of lacquer, gold Grover tuners and the pickguard removed.
A total of 1,965 of these individual hand-numbered historic instruments were produced. A portion of the proceeds from each sale was donated to "The BMI Foundation, Inc. for John Lennon Scholarship fund" which supports music education.
More about the Epiphone John Lennon 1965 Casino Electric Guitar
The Casino has a heritage as fascinating as the man whose name it bears. In 1966, during the recording of Revolver, John Lennon and George Harrison acquired sunburst Epiphone Casino guitars. John was taken by his new guitar and made it his main axe from that point on, using several different versions over the ensuing years. In cooperation with Yoko Ono, Epiphone introduces 2 Limited Edition Lennon Casino guitars.
The '65 Casino is a reproduction of the original guitar John purchased with its sunburst finish and stock hardware. In 1968, John had his Casino sanded down to bare wood and finished with a thin, dull coat of lacquer. He first used this "natural" Casino in "The White Album" sessions of '68. The John Lennon Revolution Casino is a reproduction of this stripped guitar as it remains today, featuring one coat of lacquer, gold Grover tuners, and the pickguard removed. A combined total of 1,965 of these individually hand-numbered, historic guitars have been produced, and a portion of the proceeds from the sale of each goes to the BMI Foundation for the John Lennon Scholarship Fund which supports music education. Limited lifetime warranty. Epiphone includes a hardshell case with the '65 John Lennon Casino Electric Guitar.
John Lennon Casino Worth The Hype?
John Lennon Revolution Casino Electric Guitar Review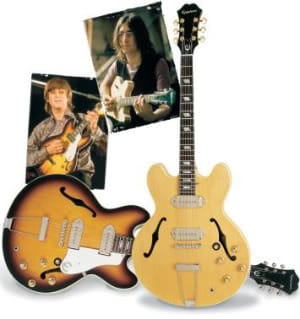 Used in the latter part of his career with the Beatles (most notably on the Revolver sessions) and for much of his solo work, Lennon's Casino was a highly personalized instrument that reflected much his maverick spirit. Purchased by Lennon in 1965, the hollowbody originally had a sunburst finish and a pickguard.
By 1968, however, in the search for a more resonant sound, Lennon had stripped the finish and removed the pickguard, leaving only the natural, instantly recognizable guitar that he is so often associated with. In order to reproduce the instrument as perfectly as possible, representatives from the Epiphone company paid a visit to the legendary instrument a the late Beatle's New York apartment, where it had been stored, virtually untouched, since his death. Precise measurements of the guitar were taken and tests performed on it, and the findings returned to Epiphone's Nashville factory.
The results of all this research is the "Revolution" Casino, and eerily "alive" guitar that features a hollow, laminated maple body and top, mahogany neck, two Alnico V P-90 single-coil pickups and a no-nonsense control layout featuring a three-way pickup selector and two volume and two tone pots. As on Lennon's guitar, the top-mounted screw and spacer for the pickguard are still in place, and there is even an unfilled screw hole on the bottom side of the guitar where the pickguard would have anchored. The natural satin finish feels refreshingly woody, and the 22-fret neck plays like butter. However, guitarists who like to engage in upper-register wailing should be warned that, like all Casinos and Gibson ES-330s, this guitar's neck joint is at the 14th fret, making it difficult to play comfortably anywhere about the 17th fret.
The combination of P-90s and hollowbody construction has always yielded great results, and this guitar is no exception. The Casino has an organic, almost spongy tone that imparts clean chords with a bell-like roundness, while distorted tones are throaty and rude. The guitar's rich harmonic content makes virtually any amp sound like it's running in some sort of Vox-like Class A configuration and through an old Vox the Revolution Casino would certainly sound, well—one can only imagine.
John Lennon Revolution Casino
John Lennon Epiphone EJ-160E Acoustic Guitar Review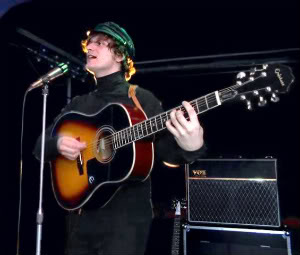 John Lennon's songwriting was so visionary, his cultural impact so deep, that his guitar playing is often overlooked. But lest we forget, it was with six-string in hand that Lennon changed the face of rock and roll. While he wasn't the world's flashiest guitarist, he was one of its most tasteful, tuneful and sometimes even terrifying practitioners.
Two of the instruments immortalized by Lennon in his work with the Beatles and his subsequent solo career were his Gibson J-160E acoustic-electric and his stripped Epiphone Casino. With the full cooperation of Lennon's widow, Yoko Ono, Epiphone issued a series of limited-edition John Lennon Signature models based on these two guitars. While these instruments may be collector's items aimed primarily at the Lennon enthusiast, they are also reasonably priced, functional instruments, perfect for any working-class hero.
JOHN LENNON EJ-160E
Patterned after the Gibson J-160E acoustic-electric that were perennial Beatles workhorses, the signature model EJ-160E features an advanced Jumbo, sloped-shoulder body shape, solid spruce top, mahogany back and sides, a chunky solid mahogany neck and solid rosewood fingerboard and bridge. The impeccable fretboard is adorned with handsome "split parallelogram" inlays that are common on many Gibsons and Epiphones. The EJ-160E's neck has the fat, rounded feel of many late-Fifties era Gibson electrics. A mini humbucking pickup is seated discreetly between the end of the guitar's fretboard and the soundhole, while volume and tone controls are located on the guitar's lower bout, as they would be on a standard electric guitar.
Played acoustically, the EJ-160E has a meaty, midrangey tone that's perfect for bold rock strumming and bluesy fingerpicking. Players who enjoy the crystalline high-end ping controlled low end of many "boutique" acoustics may find this guitar lacking subtlety or definition, but if you're looking for that meaty, woody acoustic tone that gives so many Fab Four tracks their characteristic punch and warmth, this guitar is an ideal choice. Perhaps because of the hefty girth of the neck, which is big enough to have it own very lively resonance, this guitar has a responsive rumble that lets the player feel the energy of every not, and playing it rivals the satisfying, bone-tickling experience of getting it on with a high-ticket Gibson J-200.
Plugged through a blackface Fender Super Reverb, this instrument delivers a full yet clear sound that is only enhanced by the tone-fattening proximity of the pickup to the neck. And while the tone and volume controls don't have that versatility of the graphic equalizer and feedback-notch-filter layouts found on much more "modern" electric acoustics, the controls are intuitive, effective and easy to grab on the fly.
Epiphone EJ-160E Acoustic Guitar Video