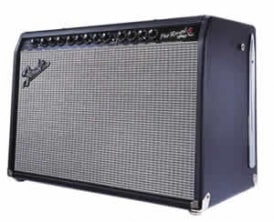 Fender Deluxe Reverb and the Fender Super Reverb are snuggle up right in with one another. Starting with the 1960's Fender Pro Reverb amp offers a nice answer when the Deluxe's volume isn't loud enough for your application and the Super Reverb is way loud. The smaller output transformer and 2 x 12″ speaker combo format make the vintage Fender Blackface amp resonate earlier on the volume control and offers a very versatile tonescape. The flexibility of the Pro Reverb makes this amp just right for country, rock and, of course, blues music. The Fender Pro Reverb configuration is just right for stage or studio work. We have seen many of these across the scope and very much appreciate the Blackface. The Fender Pro Reverb are really cool amps and makes us wonder why it wasn't more popular among other Fender Blackface groupies. Check out the video below.
1966 Black Face Super Reverb 02 R8 Historic Les Paul
The Fender Vintage Reissue '65 Super Reverb Guitar Amp is available online now. Check prices at your favorite store below.