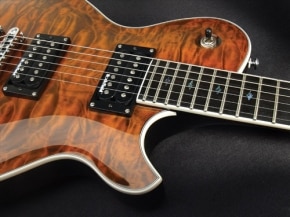 Michael Kelly Guitar Company is happy to announce it's all new Patriot Supreme guitar. The best way to describe the Michael Kelly Patriot Supreme is a modern classic. Modern in its structure, yet timeless in its design thanks to its polished single cutaway devise. This axe can not disappoint!
With its all new "Set-Thru" neck construction, this method provides a more modern upgrade to the classic neck-through construction guitars. The innovated Set-Thru construction used on the new Patriot Supreme was designed so the neck goes much deeper into the body, which provides a more superior performance, sustain, tone and optimal access to upper notes (which is not always possible on other cut-away style guitars).
The Patriot Supreme guitar comes with all the premium materials that you would expect from Michael Kelly: mahogany body and neck, Rockfield SWC pickups, and ebony fretboard. Like most Patriot Guitars, the top is profoundly carved and available in 3 beautiful finishes; Black Vapor over figured maple, Cherry Sunburst over flame maple and Tiger Eye over quilted maple.

Although the Patriot Supreme is extremely stunning including the new "Supreme" inlay, Michael Kelly kept with the motto "Built on Sound" by including award winning Rockfield pickups–the Rockfield SWC pickups add a nice warm tone with a bit more crunch–that will delight most players and playing styles. The Tune-O-Matic style bridge, bound body, Grover Tuners, neck and color headstock, the Michael Kelly Patriot Supreme is a fresh-new-guitar with a traditional twist that will put a smile on any player's face! For additional information, visit their official website at www.MichaelKellyGuitars.com.
Michael Kelly Patriot Premium