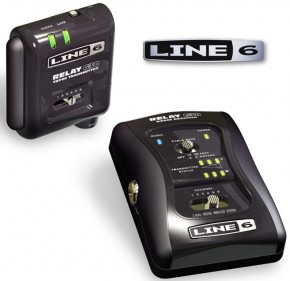 Guitarists have dreamed of wireless freedom since about two minutes after the first instrument cable was plugged in, tethering them to their amplifier. In the early days of rock and roll, wireless was something that could only be dreamed of and was as much science fiction as space travel. In recent decades, however, instrument wireless has come a long way and has gone from analog to digital and from expensive to affordable. The Line 6 Relay G30 Wireless Guitar System is a good example of this sort of bit-level working man's wireless thinking. It is a digital wireless system that operates on the 2.4GHz band, which is seen as optimal for guitar use and which keeps the signal free from a lot of interference. Even better, the G30 uses exclusive signal protection technology, broadcasting six simultaneous channels of encrypted data.
The G30 is easy to use straight out of the box. It includes a low-profile base unit that will sit on top of your amp or on your pedal board equally well and a compact transmitter that goes on your guitar strap. Line 6 kindly supplies a cable to get your guitar to the transmitter and your first set of batteries. Pretty much plug it in, turn it on, and experience wireless freedom.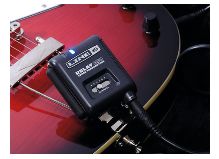 Line 6 promises an effective range of 100 feet within line-of-sight, which is excellent for this type of unit. Due to receiving this unit for evaluation during my personal off season, I was not able to try it out on a large outdoor stage to see how far it would really go, but the G30 did perform well on the indoor gigs I used it on. Sound quality was good and there was little to no latency (feeling a time lag between when a note is struck and when it is heard) which is also very good for a wireless system in this price range (MSRP $419.99). There is even an EQ switch that mimics the sound of a long cable run for those who prefer that type of sound. When compared A/B-style some garden variety Rapco and Spectraflex guitar cables, the G30 performed admirably, not showing any noticeable loss in signal strength or tone. This may change when pushing the limits of the G30's range, but within normal indoor stage distances, it was really hard to tell the difference between the cable and the wireless.
Overall, the Relay G30 performs as expected, providing a lot of bang for very little buck. Some areas of concern exist in regards to construction, however. Both the base unit and transmitter are made of fairly lightweight plastic and could probably be damaged easily. The same goes for the various switches on both pieces. Everything worked well in my tests of the G30, but I am not sure how it would hold up over the long haul. Other than that, which is really a price point issue, The Relay G30 Wireless Guitar System is an easy-to-use and cost-effective way to get into guitar wireless that delivers great sound at a price you don't even need to tell your wife about. No longer will you have to dream of running across the stage completely free of your previous entanglements. Line 6 has made it a snap to be just as mobile as you want to be. Now, you just have to perfect your dance moves. See more cool Line 6 products by visiting www.line6.com.