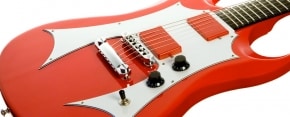 Gibson Press Release – Even the fiercest rockers like their hot-looking guitars, and no axe out there offers the intensity of eye candy captured in the form of the stunning new Eye Guitar, a new 2009 Limited Run Series model from Gibson USA. You'd better believe this is one sweet-looking instrument — but watch out! Try to take a bite and you'll expose yourself to an eviscerating maelstrom of tone. Available beginning April 1, 2009, only 350 of the new Limited Run Series Eye Guitars will be produced, and they're bound to go fast.
Dressed to Kill
Eye catching? You'd better believe it. Gibson USA's new Eye Guitar nails a look like nothing else on the planet. Its ultra-pointy, offset double-cutaway body is dressed in a nitrocellulose lacquer Fire Engine Red finish that's matched on the headstock, while the powder-coated pickup covers echo the theme. The swooping, symmetrical pickguard recalls custom creations seen on the guitars of the '70s, but is totally original and unique, while the jet-black ebony fingerboard — sans position markers — adds a touch of elegance and simplicity.
Eviscerating Tone
More than just a looker, the Eye Guitar is packed with all the tonal goodness that Gibson USA is known for. Its solid mahogany body and glued-in mahogany neck maximize resonance and sustain, while the ebony fingerboard adds an edge of clarity and definition to every note – even through heavily distorted settings on high-gain amplifiers. The pickups, a 490R at the neck and a 498T at the bridge, are the optimum humbuckers for hard rockin' performance, blended with a dash of vintage-voiced sweetness. The 490R uses Alnico II magnets and features pole-piece spacing suitable to the string spread at the neck position, while also being calibrated for balanced volume when matched with a hotter 498T in the bridge, a "Hot Alnico" design that uses a punchier Alnico V magnet and modified coil windings to provide even more oomph for rock lead work.
Keeping it Simple
The new 2009 Limited Run Series Eye Guitar has also been designed for the pure functionality that a hard-gigging guitarist needs. Controls are a can't-miss pairing of master volume and tone knobs, along with a three-way pickup selector switch. Hardware includes the time-tested Tune-o-matic bridge with stop bar tailpiece and Grover kidney button tuners, all chrome-plated. Finally, 24 frets, the legendary 24 3/4″ scale length and that classic rounded Gibson neck profile all make this one of the easiest players under the sun.
Only 350 of the guitars will be made, so get 'em while they're red hot. Each new Eye Guitar comes with a Gibson USA hardshell case and special 2009 Limited Run Series certificate of authenticity.
2009 Limited Run Series Certificate of Authenticity reads:
There's something special about the beauty and playability of a Gibson guitar from Gibson USA. Mixing time-honored processes with remarkable attention to detail, the hand-crafted guitars of Gibson USA have withstood the test of time to become the absolute standard for exceptional playability and tonal quality. The new Limited Run Series guitars from Gibson USA are the ultimate testament to this fine legacy.
Throughout 2009, Gibson USA will unveil 22 very special guitars under the new Limited Run Series label, each one a confirmation of the legendary and skill of the craftsmen of Gibson USA. Only 350 guitars will be made of each model–no more, no less–and each one will be identified by the guitar's serial number and the Certificate of Authenticity you hold in your hands.