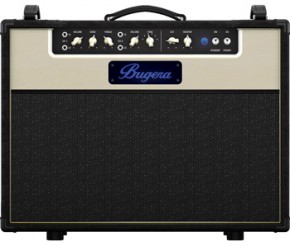 Bugera has become one of the most popular amp companies out there due to a winning combination of price and features. Bugera's great offerings, the BC30 and BC15, will undoubtedly continue in this tradition, providing boutique tone on a blue-collar budget.
The BCs are Class A vintage-style amps that are reminiscent of Matchless/Bad Cat designs that are high on many players' lust-o-meters but are just too pricey to sneak past the wife. Well, fellas, buy one of these new Bugeras and sneaking may be a thing of the past.
The BC30 gets its juice from four EL84 tubes that power its Class A circuit. Class A amps run hotter and louder than their Class AB cousins and this 30-watt power section will make many bigger amps (in power ratings, anyway) shrink like violets. Thankfully, it has a half-power switch that knocks it down to 15 watts for smaller gigs and recording sessions.
The 30 has two unique channels for a variety of sounds, the first being great for cleans and mild overdrive and the second is intended for high-gain situations of all kinds. Each channel has its own effects loop that can be used to create a "third channel" with the use of a small jumper cable.
All this flexibility makes the BC30 an amp that will work for many types of players, from classic to modern. The BC15 is a much smaller version of the 30, packing 15 watts of power and an 8-inch speaker. It is intended for rehearsing and recording but can be used onstage by micing it through the P.A.
The BC30 retails for $149.99, making these babies easy cash buys for most tone-conscious pickers out there. Give them a try if you are seeking classic British tone and vintage style without breaking the bank. Check for bargain prices.
Video from NAMM 2010 provided by TheToneKing.com