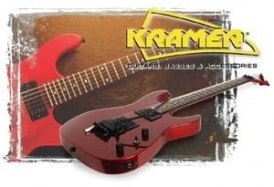 Rookie Metalheads never had it so good. This Kramer-Marshall combo packs plenty of bite and bottom at a bargain-basement price. The Kramer Baretta sports a maple neck and alder body with neck-thru construction, quad-rail humbuckers (tappable to dual-rails, for leaner thumpitude), Floyd Rose trem, a killer neck profile, superb fretting, a flawless finish and skull and crossbones tuners. Tricked-out with top notch hardware, these Korean-built Kramers sport ridiculously good tone and playability. They'll be an instant lure for anyone who's ever even thought of a pinched harmonic.
There's no better cohort for this bad-ass Baretta than a hot-blooded Marshall. The G30R-CD proudly displays Marshall its heritage with all the trimmings of its stacked brethren.
Poised within the road-worthy cab are a 30-watt amp, a 10-inch speaker and proof that Marshall knows how to do its thing on affordable solid-state practice amps. With two switchable channels that offer spanky clean and brutally dark tones, reverb and inputs for headphones and CD connection, the G30R-CD offers a lot of muscle in a midget Marshall.
—discontinued product.
Kramer Baretta FR-404S