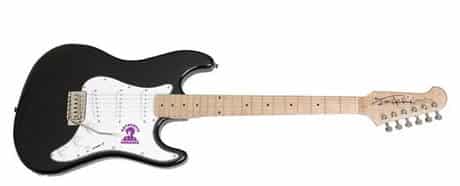 Did the title get your attention? Good. According to an interview conducted with Jimi's younger sister, Janie Hendrix, Gibson is going to create the new Jimi Hendrix Signature Model. Update: Confirmed. Gibson did knock off a Fender Strat-Style guitar and calling it a "Hendrix Electric Guitar Package". Read this post: People are outraged at Gibson.
How do they plan to do that? Jimi's main axe which he played live and in studio was usually a Fender Stratocaster. Remember back in 1967 when Hendrix's first alight a guitar-on-fire-stunt. He famously golfed his Fender Stratocaster in lighter fluid and set it ablaze.
Here are some excerpts from Gibson's website:
"What could possibly add to the enormity of Jimi Hendrix's music legacy in 2009 — 39 years after the still-ruling sonic genius of electric guitar departed the planet?
How about an entirely new and unprecedented Jimi Hendrix guitar model designed by the Authentic Hendrix and Gibson? This astonishing about-to-be-unveiled guitar brand is destined to inspire a new generation of players as well as the legion of musicians already under the influence of Jimi's magical sound and style."
Scroll down for more:
Advertisement—————————————
—————————————————————
How does the new Jimi Hendrix guitar model represent Jimi's legacy?
"His inspiration, talent, and genius at guitar playing all fueled this instrument's creation. For one example, Jimi turned right-handed guitars upside down and restrung them. That changed the way the strings and pick-ups interacted, which created a whole different sound. Now we've incorporated a new design into the placement of the pick-ups to help recreate that unique sound"
When you think of Jimi Hendrix, you think of Fender Strats. How can Authentic Hendrix and Gibson collaborate a trademark guitar such as the Fender Strat? Then again, maybe they aren't creating a Stratocaster guitar, who knows?