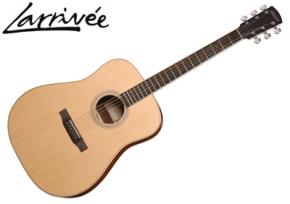 It's a well-known fact that if you spend a few thousand dollars on an acoustic guitar, you're more than likely going to come away with a high-quality, exceptional-sounding instrument. But in the last few years some of the biggest names in high-end acoustics have introduced scaled-down models selling for under a thousand dollars that offer similar sound, craftsmanship and playability to their more expensive models.
Canada's Larrivee Company is one of the high-end guitar builders to explore the lower end of the price range. While Larrivee may not be quite the household name that Taylor and Martin are, guitar aficionados have long been aware of the company's outstanding craftsmanship, which is exemplified by the intricate, detailed inlay work that graces many of Larrivee's top end models. With the introduction of the 03-series of affordable acoustic flattop guitars, Larrivee is poised to become a familiar manufacturer to all levels of guitar enthusiasts.
We checked out Larrivee's OM-03R, an orchestra model featuring rosewood back and sides. Larrivee also offers dreadnaught, small body and the company's unique L-shaped models in this series, as well as versions featuring mahogany or walnut back and sides for even lower prices. With its narrower waist and slightly shorter body length, the orchestra model is smaller, more comfortable to play and has a more balanced tone than a dreadnought, but it provides comparable volume output.
The most impressive feature of Larrivee's 03 series guitar is that they are constructed entirely of solid materials—no laminates are used like they are on other similarly priced models from high-end builders. The OM-03R features a beautiful, tight-grained, book-matched spruce top, gorgeous rosewood back (also bookmatched) and sides, a mahogany neck and ebony bridge and fingerboard. As is normal in a guitar in this price range, decorations are kept to a minimum. The neck features small, pinhead-sized inlays; the rosette is a simple ring pattern; and the neck and headstock are unbound. The fanciest feature is the three-ply wood fiber binding that surrounds the body. The neck and body are covered with a flat satin finish.
Although the OM-03R offers few frills in terms of appearance, it supplies plenty of thrills in terms of sound. The guitar has a rich, well-balanced tone with impressive volume and sustain. Its treble response is bright with a complexity and roundness usually only encountered in guitars costing significantly more. The bass is loud and tight, and the midrange is sweet and full. While not as booming as a dreadnought, the OM-03R has a loud, powerful voice that will suit solo fingersylists or chord strummers well.
The End Line
Larrivee has made an impressive entry into the low-cost acoustic arena, beating out the big boys in both price and material quality. If you care more about sound than fancy looks, the OM-03R is a highly satisfying instrument for acoustic guitarists on a budget.