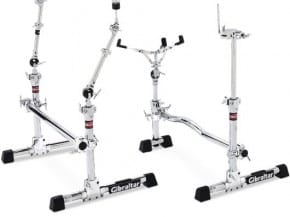 Call me Old Fashioned, but I've always resisted using a drum rack. I understand the convenience they offer when you have a large set up and need things to be "just so". I also get the peace of mind they provide by allowing you to lock all of your settings; No one likes their drums and cymbals to tip or tilt out of place and racks are very solid. But I play a small kit, often only two or three drums and cymbals; a large rack simply is more than I need. Well, it seems that now I too can feel assured that my gear is solid and secure night after night. I present to you the Stealth Rack from Gibraltar Hardware.
The Stealth Rack isn't invisible, but it sure comes close. While most rack systems involve horizontal cross-bars placed over the bass drum, the Stealth Rack places them low at floor level and on the side of your kick. This not only gives your audience a clear view of your fancy-schmancy drum kit, it also keeps the vertical stems of the rack very stable by placing extra weight at the base.
The leg stems and feet are the same beefy steel we've come to expect from the good folks over at Gibraltar, the small footprint of the stealth snare stand on the GSVMS (Stealth Vertical Mounting System) model is especially nice since it allows you to position your pedals in the area normally occupied by the tripod base of a traditional snare stand. This will also prove useful if you use trigger or percussion pedals. There's even a curve in the horizontal pipe to allow for your double pedal drive shaft! That's cool! The snare stand is equipped with Gibraltar's Ultra-Adjust tilter giving you infinite control of your snare placement. The tom arm is the standard 10.5mm adjustable ball and socket L-rod and has a stem tall enough for most rack toms to be placed comfortably, plus there's an additional clamp to add a crash cymbal.
The GSSMS (Stealth Side Mount System) is the other half of this power-pack rack-attack! The Yin to the Yang! It sports two identical vertical stems outfitted with Gibraltar's Ultra-Adjust cymbal arms (WOW, are these sweet!) and plenty of room to add and extra cymbal arm or two, Tom arms or even the kitchen sink! Gibraltar's Stealth Racks provide a great rack solution for fast small kit set ups. The discreet styling blends in with the kit so well it seems there is no rack at all and the small stage footprint means setting up in tight spaces will be quick and easy too!
Does this mean I can finally get my rack on? I think it does. Check for hot buys!
Advertisement