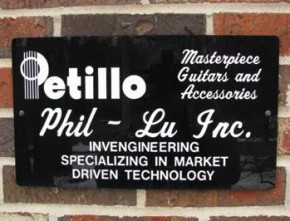 Phil Petillo, a master luthier, inventor, and true Renaissance man, died August 13, 2010 of a massive heart attack. Known to the world as a luthier, engineer, musician, draftsman, and scientist, Petillo is also known as the man who sold Bruce Springsteen's famous 1953 Fender Esquire. Petillo also did instrument work for many other well-known players, including Tal Farlow, Paul McCartney, and Jim Croce.
Petillo held 30 U.S. patents ranging from his Petillo Presidion Frets, Petillo pickups and strings, to surgical devices, fuel cell technology, and hydrogen generators. He was a graduate of Columbia University and also held a doctorate from LaSalle University. He was 64.
Petillo learned to make guitars by working with Jimmy Diserio, the godson of legendary luthier John D'Angelico, in his workshop in Manhattan. He absorbed all the techniques and secrets these craftsmen had to offer him and used them to create his own tradition of construction, creativity, and quality. He learned the art of boulle work, metal carvings, and marquetry from Phillip Rimmler, who inlaid the famous Orient Express train.
In the 1970's, Petillo built the prototypes that helped to launch Kramer Guitars, including the aluminum neck design that first put the company on the map. He also designed and refined medical devices that have saved many lives, done restorations for the Smithsonian Institution, contributed to the Chinery Collection, and restored an original Stradivarius violin for the Metropolitan Museum in New York. His work is on display in the Rock and Roll Hall of Fame exhibit "From Asbury Park to the Promised Land: The Life and Music of Bruce Springsteen".
People of Petillo's caliber don't come along very often and his passing has left an impossible-to-fill hole in the guitar world and in American life. The Gear Vault staff sends its condolences to his family in this difficult time. Hopefully, his work will be carried on by his son and only shop partner David Petillo. Visit the Petillos online at www.petilloguitars.com.