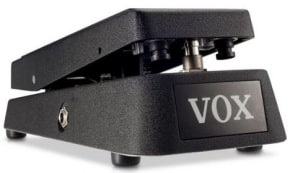 Wah pedals have been around since the 1960's and have become one of the must-have effects in just about every guitarist's arsenal.
Vox was the company to first introduce wahs to the guitar market and remains a favorite brand to the present day for those seeking to release their inner "Voodoo Chile." But what is their 'Suckiest" Wah Pedal offering?
Their model V845 version of their original wah design offers guitar players the vintage sound they crave in a modern, sturdy, and affordable unit — so they say. Personally I think the v847 is better, but that is an entirely different post.
The Vox V845 is a simple and to-the-point pedal, providing everything one would expect in a classic wah with no extra bells and whistles to confuse or infuriate the end user.
Players will find an input jack, and output jack, a power connection, and the pedal, itself. No real need for a manual with this one, unless you just started playing guitar this morning.
The V845 will deliver the goods to any players seeking the famous "talking tone" that put Vox wahs on the map back in the day. It is a sound that has been featured on countless hit records and legendary live performances.
Those interested in getting the "Shaft" will want to hurry down to their local Vox dealer or local guitar store to take a funky spin on one of these. However, personally, I think the Vox V845 Wah is over priced @ $119.00.
Is The Vox V845 Any Good?
Depends on what you mean by good. It delivers usable sounds and can satisfy the not-so-snobby tone guys needs. It does have a metal casing which is a plus. That said, I cannot recommend this pedal. I don't have any affiliate links in this article even though I would get paid if you buy it, I don't want to see you, the reader, to waste your money for personal greed.
I would suggest spending more and getting a better wah pedal
It's not made in the USA
It does not come with a power supply
It does not have true bypass
No power indicator light
It doesn't have the tonal range as the Vox V847
Sounds good on the clean channel — not so much with distortion
Not the best quality (Made in China)
Vox is a good brand, don't get me wrong. I've owned many Vox pedals and music gear… but I cannot in good conscience recommend a piece of music gear that I am not willing to play myself. I do recommend Squire guitars tho –
"Knowledge speaks, but wisdom listens"
? Jimi Hendrix