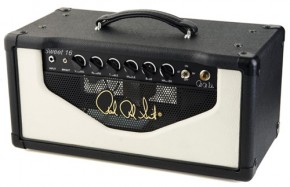 Paul Reed Smith is well known in the guitar community for his ultra-plush, high-end guitar designs and has recently made the move into making a line of tube amps, as well. His latest offering is the Sweet 16 head, which gives players a mighty 16 watts of cathode-biased 6v6 tube power, a full TMB tone stack, reverb, and PRS' completely transparent master volume circuit.
Front panel controls include treble, middle, bass, reverb, volume, master volume, and a bright switch, which should make the 16 instantly familiar to most guitarists. The amps are all made in Stevensville, Maryland with hand-assembled circuit boards for greater consistency and durability. The power tubes are biased to near-Class A, meaning they run a bit hotter than normal, and in a push-pull configuration, which gives the 16 more chime, bloom, and harmonics at all volume levels.
The Sweet 16 is capable of producing a variety of useable tones ranging from shimmering cleans, especially with single-coil-laden guitars, to full-on crunchiness with humbuckers pumped through it. It also allows the player to utilize the volume knob on their guitar to great effect in controlling the amount of grind at any given moment.
The best thing about the Sweet 16 is that it is priced significantly lower (around $1695.00) than the other amps in the PRS line, which carry quite lofty price tags. This puts a boutique-level world-class tone into the hands of the picker on the street, which is where it belongs in the first place. Matching PRS 1×12 and 2×12 speaker cabinets are, of course, available. Time will tell, but this may be a hard amp to beat, especially for small- to medium-sized gigs and studio work. Interested parties will want to ramble on down to their local PRS dealer and inquire about getting one of these of their very own. Read tips on how to choose the right guitar amplifier.
PRS SWEET 16 Video