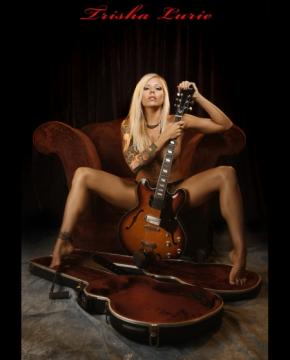 Trisha Lurie from California for making Les Paul Girl
Tell us about your musical experience
Well, I am a singer songwriter, guitarist.. a rock girl all the way. Worked with a few different bands but solo right now. Writing new music right now and hope to be putting together a new demo this summer. I am obsessed with live music. Can not get enough of it.
What would you like people to know about your band and/or modeling career? Got a Website?
Well, my music is my soul and also kind of in a transition right now as I look for my new band mates. Just writing new music and having a lot of fun with it right now. Modeling is something I love doing and kind of an on the side thing. My main trade is art (painting, inkwork, designing) and I just pre-launched my own clothing line LUIRE LURIE. A rock inspired tee line for ladies and gents.
Advertisement————————————
————————————————————
Who are your biggest musical influences?
I have so many musical influences, so many! But off the top of my head, TRENT (NIN), TOOL, TOM WAITS, IGGY POP, PIXIES, BAUHAUS, TOOL, BEATLES, YEAH YEAH YEAHS, CLAPTON, MUSE, HOLE, NIRVANA, CASH, STONES, WHITE STRIPES… I could go on forever and ever!
What do you love most about your '65 Epiphone Casino?
HMMM, Well everything. Love it like a fat kid loves cake.
Funniest thing that happened to you on the road, stage or backstage?
I'm not telling.."wink"
Where do you see yourself a few years from now?
It would be nice to have a rocking record out in the next few years and be traveling the world chasing swells. I would love my clothing line to be rocking too!.
Gear-Vault.com is an eBay Alternative. Come sell with us!