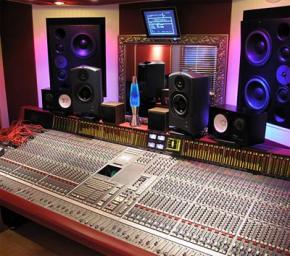 Choosing monitor speakers is probably the most subjective part of equipping a recording studio. Specs and features inform you of the manufacture's intent, but only your own ears can tell you how a given set of speakers suits your taste, sensitivity and listening environment. We tested three models of powered studio monitors—speakers with built-in power amps, so you can run signal directly to them from your mixer.
MACKIE HR824
Mackie designs' HR824 High Resolution Studio Monitors feed 150 watts to an 8.75-inch woofer and 100 watts to a one-inch, aluminum allow domed tweeter, housed in a cabinet measuring 15.75 x 10 x 12.2 inches.
Reported frequency response is 39 Hz 20 kHz (+/- 1.5 dB). Instead of a conventional bass port, these speakers feature a "passive radiator" to dish out low frequencies. Bass handling was impressive, especially the way the speakers distinguished between low midrange and deep sub-bass. The high end was bright, but no harsh; details like hi-hat cut clearly without inducing ear fatigue. Even better, the HR824s separated true highs frim upper mids without noticeable smearing.
The HR824s offer impressive imaging. Sit anywhere near the sweet spot and you're treated to a three-dimensional soundstage, where the music seems to float in space. Conversely, in our tests, frequency response was affected by shifts in listening position.
Setup was quite simple. The speakers have a number of user friendly controls, including clearly illustrated rear-mounted switches designed to optimize the speakers for various room locations, as input sensitivity pot and switches for low and high cut.
The End Line
Pumping everything from Jazz to Jungle, the versatile HR824s never broke sweat. Mackie fans will not be disappointed.
EVENT 20/20
The Event 20/20 bass Biamplified Monitor System was the smallest of the speakers we tested: just 10.25 x 14.75 x 11.75 inches. The enclosures' bass ports are on the front, allowing you to mount the speakers against the wall if desired. The biamped system pushes 130 watts to the eight-inch low frequency driver and 70 watts to the one-inch silk domed tweeter. Controls include continuously variable input sensitivity, high and low frequency trim (+/- 3 dB), circuit breaker reset and power, all on the cabinet's back. The single input accepts both XLR and ¼-inch plugs.
Event's literature promises sonic size disproportionate to the speaker's physical dimensions, and they're not just blowin' smoke. The 20/20's imaging is impressively deep and live sounding, with a wide sweet spot. Reported frequency response is 38 Hz-20 kHz (+/- 2 dB). In listening tests, bass response was fast and snappy under normal circumstances. Highs sounded detailed but smooth on "warm" program material like Jazz; more aggressive music was ever-so-slightly strident until we rolled the highs back a dB or two.
The End Line
The Event 20/20 sound sweet at low volumes, and cranking these solid performers makes 'em sound positively huge.
Advertisement————————————
————————————————————
HAFLER TRM8
The TMR8 are the first speakers built by Hafler, a company with an impressive history of amp building. Powered by "trans-nova" technology, the bi-amped system feeds 150 watts to the eight-inch Polypropylene cone woofer and 75 watts to the one-inch soft dome tweeter. Those in tight quarters take note: to prevent boundary loading the woofer, Hafler tells you to mount the vented enclosure (10.25 x 15.44 x 13 inches) at least five inches from any walls.
DIP switches, including bass and treble boost/cut (+/- 4 dB) and input sensitivity controls, as well as RCA, ¼-inch and XLR inputs are provided on the back panel. The power switch is on the front.
The TMR8s, with a reported frequency response of 45 Hz-21 kHz (+/- 2 dB), really kicked bass. Treble response was sharp and detailed—especially nice at low volumes, but a bit fatiguing when cranked up. The Haflers did an especially nice job of reproducing detailed percussive sounds and lent detail to "warm" program material like Jazz.
Individual panning could be heard distinctly, but the image seemed somewhat tow-dimensional outside a fairly narrow sweet spot. That said, overall frequency response fared quite well outside the sweet spot, a real plus if you move around your studio during sessions.
The End Line
Those who crave pounding bass and a bright high end will find the TMR8s just the right blend of aggression and precision.
Gear-Vault Classifieds is an eBay alternative. Come sell your music equipment with us, for free!