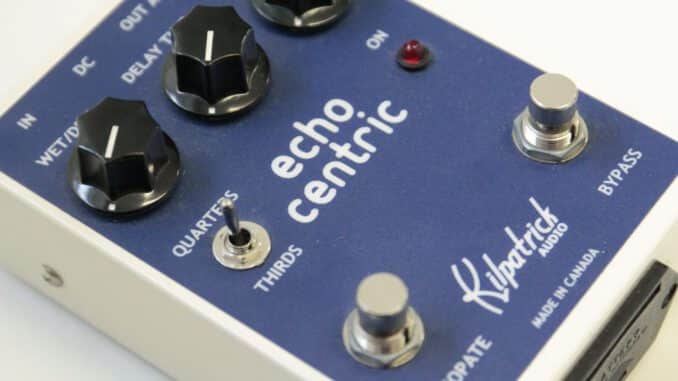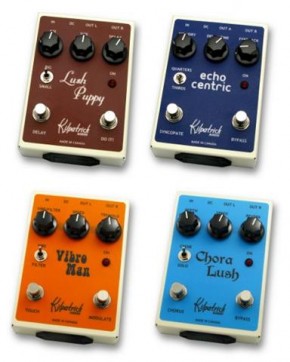 Canadian company Kilpatrick Audio has added two new models to their line of guitar effects pedals. All of the models are combination effects, giving players two or more effects in one pedal. The effects are highly adjustable and can be used simultaneously or switched on and off individually. The pedals are made of solid steel in an attractive vintage style and give off an impressive feeling of overall high quality and durability.
One of the new models, The Vibro Man combines tremolo and vibrato effects with a modulating band-pass filter. There is a Touch footswitch which causes the effects to react to your playing. The vibrato gets deeper the louder you play, enabling outstanding expression not possible with conventional effects. This feature is great for solos and adding just the right amount of funk without having to adjust the knobs.
Another new release is the Chora Lush, a combination chorus with reverb pedal. Both the chorus and reverb are rich and smooth sounding and like the Vibro Man, the effects are versatile and compliment eacho ther beautifully. The Chorus has a choir mode that stacks multiple voices for a robust effect and a solo mode for a more subtle and classic chorus. The name suits the pedal well, it is a supremely lush sounding chorus with a lot of character.
The original Lush Puppy (reverb with delay) and Echo Centric (echo with stereo synchopation) are both outstanding pedals and these new models round out the Kilpatrick Audio collection nicely. With the combo-effect design, each pedal is an original with a personality all it's own. The effect combinations are well matched and masterfully tuned with an excellent range of adjustable control. In a boutique pedal market over saturated with basic overdrive and fuzz boxes, Kilpatrick Audio's unique combination reverb, delay and modulation effects are like a breath of fresh air.
The Kilpatrick Audio pedals cost $279 USD and can be purchased through authorized dealers or directly at www.kilpatrickaudio.com