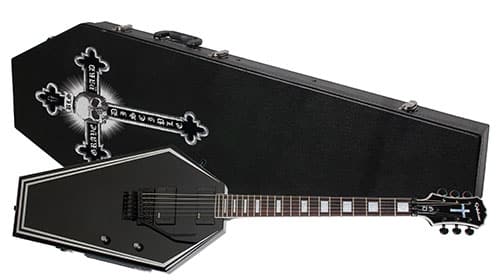 Zakk Wylde is one of the most iconic heavy metal guitarists of our time and has had his praises sung far and wide. From his years with Ozzy Osbourne to fronting his own band, Black Label Society, Zakk Wylde has proved his point time and again and is considered by many to be the last of the true guitar heroes.
Now, Wylde has worked with Epiphone to bring to the stage a version of the unique guitar he was seen playing on the 2009 "Peddle To The Metal" tour, which is the new Graveyard Disciple Limited Edition. The guitar is shaped like a coffin and features tapered and silver pinstriped edges for more visual appeal. This makes for one of the more memorable guitars to ever grace the concert stage and is sure to be a hit with its target crowd.
The Graveyard Disciple is more than mere image, however. It features a mahogany body and glued-in maple neck with a D-shaped smooth taper carve and satin finish for the utmost playing comfort. It also has an ebony fingerboard and 22 medium-jumbo frets. The Disciple is outfitted with an original Floyd Rose trem and EMG HZ pickups which make the guitar perfectly suited for the heavy metal lifestyle.
Other Details About Epiphone Graveyard Disciple:
Multi-bound headstock with cross inlay and 16:1 premium Grover tuners, mother-of-pearl-topped control knobs, Epiphone's non-rotating output jack, and Zakk's signature outline on the rear of the headstock. A coffin-shaped case with the Graveyard Disciple artwork and a certificate of authenticity are also part of the package. Retail price is $1499.00, which makes this an affordable treasure for any Zakk Wylde fan who wants to seek one out.
Epiphone Graveyard Disciple Guitar Played by Zakk Wylde