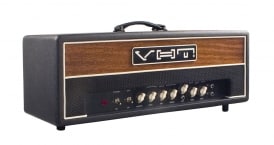 Guitarists looking for great tone that works with any speaker setup would do well to consider the new VHT Standard 36 hand-wired tube head. The Standard 36 is crafted in VHT's workshop outside of San Francisco where VHT's team of experienced designers put their magic touches on every amp the company creates.
The Standard 36 uses three 12AX7 tubes in the preamp section and four EL84's in the power amp section, along with a 5U4G rectifier. It has separate Tone and TMB channels with a master volume that controls both. The Standard produces complex tones with articulate highs and tight, focused lows with plenty of power on tap. The drive side maintains a lot of overtones along with enough mids and lows to create unique tones. The preamp and power amp are balanced and give out a cool combination of crunch and headroom. The amp is never harsh, has a great bottom, and cleans up very well with the guitars' volume know, which is indicative of the way VHT wants their amps to work.
Like all VHT amps, the Standard 36 is hand-wired and extensively tested for quality. An extensive burn-in insures an excellent level of reliability. Each head is given an initial sound test before being burned-in and then a second more detailed test after the burn-in is completed. It is then A/B-ed with other amps for consistency.
The Standard 36 has the classic tube tones on tap that savvy guitarists everywhere are seeking and the head mates very well with the VHT Standard 2×12 cabinet or it can also be pumped into any cabinet of a players' choosing, providing even more tonal variation. The Standard 36 retails for $1899, which puts it in a pretty crowded playing field but, like all VHT products, it distinguishes itself on the field of play and is an excellent choice for those looking for a great-sounding head in this price range.
If you like the VHT amp but feel the price range is out of reach, no worries… check out these great-sounding amps at a bargain price
VHT Standard 36