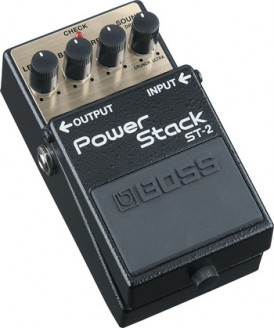 BOSS U.S. is proud to announce the addition of the ST-2 Power Stack to its industry-leading compact pedal lineup. Boss ST2 emulates the sound and feel of a cranked stack tube amp. The Boss ST-2 is a unique type of BOSS distortion pedal, one that gives guitarists both the sound and feel of playing through a large, cranked-up, stack-style tube amplifier. This is accomplished through BOSS' years of meticulous research in amp modeling, and represents a bold step forward in stompbox design.
As with all BOSS compact pedals, the BOSS ST-2 is very easy to use and built to last. The ST2's key control is the SOUND knob—with this single knob, players can dial in three distinct stack tones, from fat crunch to punchy drive to ultra-high gain distortion, and every color in between. BASS and TREBLE knobs let the user add sweetening detail, while LEVEL controls the effect's overall volume.
The BOSS ST-2 has an extremely versatile range of distortion tones and authentic stack-amp feel, and is ideal for guitarists of all playing styles, from classic rock and blues to raging metal amplifier attack. It's perfect for players looking for a wide range of distortion sounds from a single stompbox, and for combo-amp and multi-effects users that want to add some real tube-stack mojo to their rig. Sounds great, how much?
The Boss ST-2 distortion pedal will be available in September: MSRP of $162.00.
Boss ST2 Power Stack Guitar Pedal Video Demo