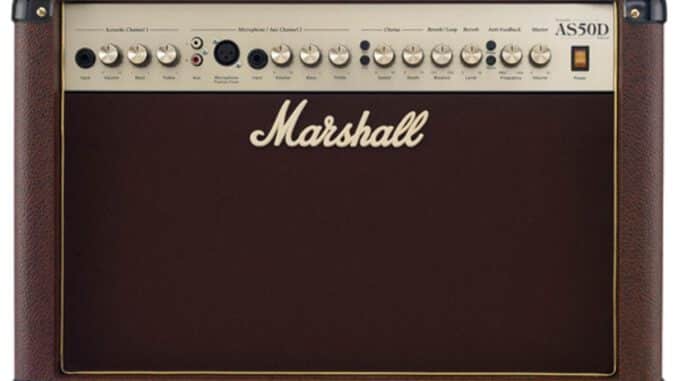 The Marshall name has long been associated with high quality amps, and the Marshall AS100D 2×8 Acoustic Combo Amp is no exception to this general expectation. The Acoustic Combo amp is designed for use with a variety of acoustic instruments, allowing you to turn the volume up on anything that you play. The controls are specifically designed for use with an acoustic instrument, and will produce a clear sound even if played with a microphone.
Features of the Marshall AS100D 2×8 Acoustic Amp Combo
This Marshall amp is packed with features, with the base of the amp being two eight inch speakers. The amp also include reverb, delay and chorus controls in addition to feedback control features that allow you to create a sound that fits your musical style perfectly. There is also a microphone channel for vocals on the amp, making it a multi-functional piece of equipment that can handle many different duties when you are playing. This is a great piece of equipment to have if you want to change your style up every now and then.
One advantage to using the Marshall AS100D 2×8 Acoustic Combo Amp is that you can use this amp even with instruments that don't have built-in pickups, and the amp will still produce a clear sound that musicians love. The digital features are also very unique among amps, since the AS100D is the very first Marshall creation to use any digital features. With loop controls, notch filters, and an auxiliary channel you will have everything that you need to create professional music with an acoustic instrument.
Marshall AS100D Special Features
With any acoustic amp, one of the hardest things to control is feedback. The Marshall AS100D 2×8 Acoustic Combo Amp has an anti-feedback set of controls that eliminates this annoying part of playing an acoustic instrument on an amplifier. You will only hear clear, rich music when you choose this Marshall amp. Both channels on the amp have depth controls for a deeper, more organic sound from your instruments and can reach up to fifty watts of power without any discernable distortion from the amp.
The Marshall AS100D 2×8 Acoustic Combo amp can allow you to play live gigs comfortable with any acoustic instrument. The quality that is associated with the Marshall line of amps comes through on the AS100D, and is clearly visible with the reduce feedback and digital features that are simple to use.
Marshall AS100D 2×8 Acoustic Guitar Amp