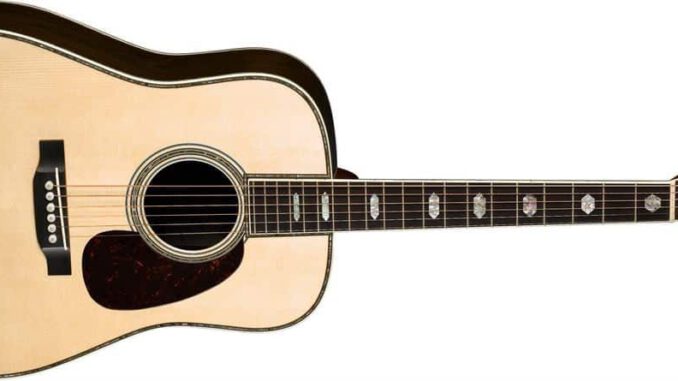 As you probably already know, I'm a poor broke bastard and can't afford a $1400 guitar, let alone a $48,000 acoustic guitar. But hey, they are fun to look at, right?
Martin says the D-45 Authentic is made exactly like the original 91 pre-war D-45 Dreadnoughts. I think what Martin is hoping for is that the D-45 Authentic becomes the next "Holy Grail" of acoustic guitars, which I guess could happen someday in the far future. Hell, it is speculated that Hard Rock Cafe in Boston dropped a 1,000,000,000 big ones on Keith Richards 1959 Gibson Les Paul. Perhaps it is possible that someday our great, great, great grandkids will get to see a rare D-45 at some Hardrock Cafe in a glass case somewhere. It does sound amazing, you can hear it in the video below.
Okay, So What Makes This a $48,000 Acoustic?
Hell, I don't know! Sounds nice? — I do know one of the most essential authentic features of the 1942 D-45 is the 100% hot hide glue construction. For many years, hide glue was used almost exclusively by Martin and other quality guitar makers. It's still the choice among many independent luthiers – and with good reason. A natural-based product, it's been proven to add sustain and clarity of tone to guitars and other stringed instruments. Although it is extremely difficult to utilize in production settings, it does allow for easy disassembly of wooden parts in repair procedures. As many vintage instrument collectors and repair persons can attest, hide glue is durable, flexible and long lasting. Martin still uses this technique with many of their custom instruments and vintage guitar repairs.
According to Tim Teel, Martin's Director of Instrument Design, pre-war D-45s had some interesting differences from later D-45 reissues. The original Adirondack red spruce tops were thinner (.105″ versus .120″) with rear-shifted scalloped X-bracing. The thickness of the back was slightly thinner too, which also added to the lightness and airy resonance of the guitar.
Martin reproduced these specs in this Authentic Edition along with an ebony, non-adjustable neck rod (circa 1930s), solid pearl inlays and, of course, premium bookmatched Brazilian rosewood back, sides, headplate, as well as Brazilian inlays in the top, rosette, side and back.
Other authentic features include beveled faux tortoise pickguard (under lacquer), ivoroid binding on body, soundhole rosette, fingerboard, headstock, heel cap and end piece. The old-style gold tuners are featured, too, as are the traditional ebony bridge with fossilized ivory bridge pins, long saddle and nut, ebony fingerboard with 45-style hexagon fingerboard inlays. A thin nitrocellulose polished lacquer finish.
This guitar is suppose to replicate the feel, the sound, the look, the essence of a pre-war Martin D-45, but does that make it a $48k guitar? [tongue in cheek].
User Reviews – Lol! — I have to share the user reviews I found on Musician's Friend. While these are more than likely hoax reviews by famous comedians, they are just too damn entertaining not to share!
Martin D-45 Reviews
from Musician's Friend

By peteseger
from Kentucky

I bought one of these on a whim, mostly as a beater campfire guitar.

It's not awful as guitars go. I'm not a huge fan of dreadnoughts, and this one doesn't change my mind. In all honest, I think the cheaper beater acoustic I have beats it on sound quality and playability.

I dropped it twice, and it's only sustained minor damage. A couple small cracks in the top that I patched with superglue (works fine), and a ding or two on the neck. No biggie. And it's got a couple little burned spots on the top (sparks from a fire) and on the side (cigarette ash fell on it when I was playing and smoking one night).

Think I might install the Roland synth pickup on this thing. If I can't get a good acoustic sound out of it, maybe I can get some use out of it as a synth guitar. Could be fun. Worse comes to worst, I have a couple holes in the front from the screw mounts, and those can be patched with a little spackle.
Who the hell buys a $48,000 guitar to use as a beater campfire git-fiddler? And my personal favorite review goes to…
By jesselikesfood
from Michigan

It's pretty good. It's a guitar. It's the same price as a car. It's not a car.
The Conclusion
Well, let's look at the bright side of this acoustic guitar, it comes with free shipping to the lower 48 states [if] you buy from either Guitar Center or Musician's Friend. So that's something, right? And Martin boasts the D-45 has gold tuners (real gold?) and a fossilized ivory bridge pins — maybe from a 20,000-year-old mammoth from the ice age?! Hell, maybe Martin throws in a nice gig bag to boot… Who knows.
Video: Martin D-45S Authentic 1936 Acoustic Guitar