History of Marshall JCM800 Guitar Amplifiers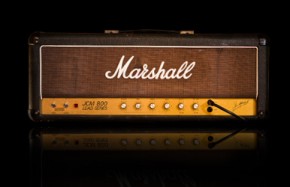 Marshall Amplification is a British company which is renowned for manufacturing some of the best and most versatile guitar amplification units out there. The sought after "crunch sound" which only Marshall Equipments have to offer remains unrivaled till date. Guitarists who prefer a heavier guitar sound have always invariably ended up selecting a Marshall. The venerable Marshall JCM800 which was introduced in the 1980's is considered one of the most prodigal guitar amps ever to hit the market and became an instant hit with some of the biggest names like Zakk Wylde, Slash and Randy Rhoads.
As a response to the greater and greater demand for distortion sounds, Marshall had introduced the MV or Master Volume Series which they called JMP; this new feature gave the guitarists more control over the Volume. Apart from the Master Volume, this series of amplifiers also added an effect loop. Marshall soon started calling this series the JCM800 after their deal with Rose-Morris ended. The name came from Marshall's own initials and the number on the number plate of his car! Most notable in this range were the 2204 (50 Watt) and the 2203 (100 Watt) series. The look of the Amp unit was also redesigned with a grille cloth replacing the vinyl in the front.
During the same time, Marshall began to face more competition from American suppliers like Soldano and Mesa Boogie. As a result the JCM800 saw newer versions, prominently the 2205, which included features such as channel switching with which the player could switch between clean and distorted sound with the foot-operated switch.
While all amps were valve based initially, Marshall started experimenting with solid state diodes as a replacement; for instance the 2205 JCM800 incorporated diode clipping which allowed for even more pre-amp gain than before. This was accomplished by adding and additional solid-state diode which added more distortion to the output.
Obviously the shift from valves to solid states diodes was something that the purists were not quite at home with; however this new brand of amps became an instant hit with the masses. Marshall continued his experiments with the solid state diodes and came out with many models which would become a raging success amongst the entry-level guitarists.
[% oiopub-banner-3-left %]
Regardless of the quality improvements, the solid-state amps were still considered as beginner equipment however now the amateur guitarist could use the same brand of amp that the pro's out there were using, which is probably why the product line was so successful.
The JCM800 product line was discontinued in 1989 with the introduction of the JCM900 which added even more distortion while retaining popular elements of the JCM800 series. The JCM900 was very well received as well, especially by players of the younger generation.
The Marshall JCM800 may easily be considered the greatest innovation in Guitar Amps and had introduced many features which became a rage with both the leading and the amateur guitarists in the 80's and indeed many players today continue using them. The unmistakable Marshall distortion sound which the JCM800 offered still has a fanatic following of lovers and admirers who consider it to be the best guitar amp ever to hit the market.

Marshall has reissued the JCM800 2203x Vintage Series. Find prices below: