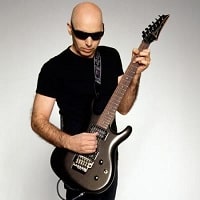 You just don't screw around with the guitar gods. And UK band Coldplay, who have just released their latest song 'Viva la Vida', are learning the hard way. According to NME, Coldplay have been sued by his royal baldness, American guitar virtuoso Joe Satriani, who claims that the band's latest hit borrows a bit too much from his 2004 song 'If I Could Fly', from his album 'Is There Love in Space?'.
According to Satriani, the members of Coldplay, singer Chris Martin, bass player Guy Berryman, guitarist Jonny Buckland and drummer Will Champion are all credited with writing 'Viva la Vida'), used substantial portions of 'If I Could Fly', and is seeking "any and all profits" made from the Coldplay track as well as a jury trial to determine if there was indeed any plagiarism involved.
There are some major similarities with the two songs, as highlighted by a YouTube video. I knew I should have been suspicious when Coldplay released a song that sounded good to me…
And to top it all off, the accusation comes just one day after the Coldplay album had been nominated for seven Grammy awards. You see, you just don't screw around with the guitar gods.
Update September 14, 2009: the case was dismissed in California Central District Court "upon stipulation", which means an out-of-court settlement has been reached. I suspect Coldplay handed Satch some cash to go away.
Joe Satriani vs Coldplay
Musician's Friend Stupid Deal of the Day