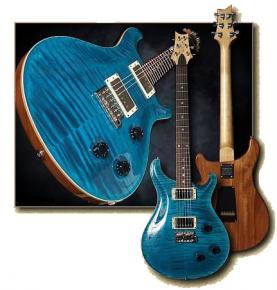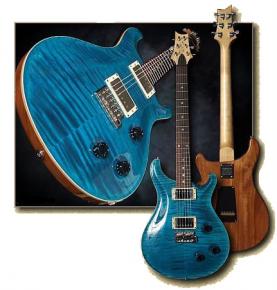 PRS presented the CE line in 1988 as a high-quality, yet, less expensive bolt-on alternative from their pricier set-neck guitar models. PRS have gained quite a following fan base in the past 20+ years for their familiar feel and superior driving tone as well as for their competitive price point. This new CE's inclusion of a solid alder body is an especially established match for the maple neck. Alder's airy and loud sparkling tone gives the 24-fret alder CE excellent clarity and profuse bite.
The maple neck adds even more rich presence, and PRS's HFS and Vintage Bass pickups bring all of this guitar's punchy tone to a well enhanced life character. The neck on my PRS sported the greasy-fast thin-wide shape. Although more than 15 year old, this shape still feels incredibly modern and caters well to the fast-fingered player. Sealed Phase II locking tuners and genuine PRS's famous tremolo system completes the highly versatile CE package.
>Guitar players who know their woods may expect to hear something similar to a Strat's acoustic tone from the PRS CE Alder. But it doesn't sound more like a Strat than a mahogany-with-maple-top PRS sounds like a Les Paul. It creates a solid innovative tone that is aggressive in the highs and quick to respond to pick-attack, which help the Alder CE scream out leads and gleam brilliantly through clean amps. At the same time, the midrange is quite definitive and the lows are amazingly thick, as opposed to the scooped mids found in so many guitars that share this alder wood compliment. The CE Alder is more fiery than sweet and seems suitable for any style of music. Rotating the five-way selector switch through single-coil and humbucker options, I discovered everything from snappy vintage tones to furious extremes.
The End Line
The CE Alder is ready to satisfy another whole new generation of PRS guitar enthusiasts who prefer the extra spiciness of a bolt-on neck and the recognizably roomy highs of an alder-body guitar. http://www.prsguitars.com/