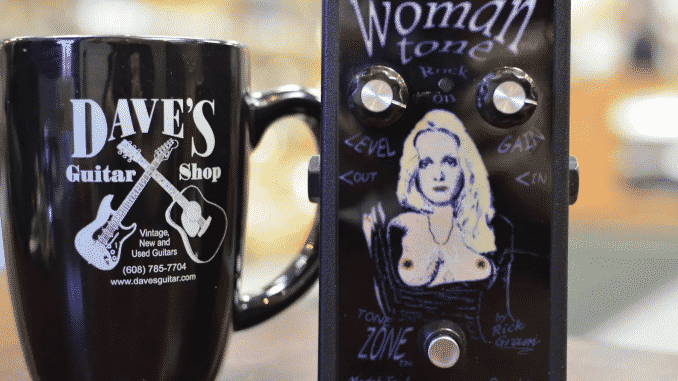 "Nipples glow red when ON!" boasts the brochure for Rick Gram Studio Tz-1 Woman Tone. And indeed they do. Activate this titillating tone bender and you'll be pleased, amused or maybe just outraged to find that the red LEDs illuminate the bountiful breasts of the bodacious blond silk-screened on the control panel of this creamy overdrive unit.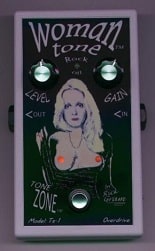 But if the packaging of the Woman Tone is outrageous, the tones it produces are as classy as they come: warm, responsive overdrives that react with smooth subtlety to variations in picking attack and guitar volume. Like Ibanez's hallowed Tube Screamer or Boss' now extinct OD-1 Overdrive pedals, the Tz-1 is not designed to produce gobs of gain. It instead excels at reproducing the creamy, compressed tones obtained by flooring classic non-master volume Marshall and Fender amps.
The plastic casing and input and output jacks may eventually crumble at the feet of booted bruisers, and a tone control would have been a welcome addition to the level and gain knobs. But the Woman Tone's innards, which include noise quashing internal voltage-regulation circuitry and tone-saving virtual-bypass circuitry, are thoughtfully designed and well assembled. Rick Gram Studios also offers the Catch-A-Buzz and the Franken Tone fuzz/distortion pedals. They, however, are not mammary powered.