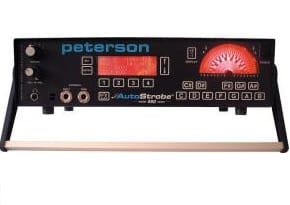 For back-porch strumming, being a few 100ths of a semi-tone out of tune is no big deal. But if you're recording, playing live or even just jamming with others, it can be a cacophonous disaster that has you reaching for the Tylenol.
The solution? Get an electronic tuner. They're fast, they're accurate and one should be in every serious player's gigbag or rack. The following models cover the range from inexpensive hand held units to professional rackmount models, any of which should keep you comfortably distanced from discord hell.
The Korg CA-40 Chromatic tuner ($19.99) is one of the less-expensive electronic tuners on the market but still includes all the necessary features. The large, liquid-crystal display features a "needle-style" meter that ranges from 430 to 450 Hz and is augmented by three LEDs that light up when your instrument is sharp, flat or right in tune. The unit has an input jack for electric guitars, a built-in mic for acoustic instruments and an output jack that allows it to be placed in the signal of the chain, even when turned off. The CA-40 provides a "Sound Out" function that plays a reference tone through the internal speaker, letting you tune by ear. Each time you push the "Sound" switch, the tone will rotate through 7B_6E_5A_4D_3G_2B_1E in Guitar mode, or through LB_4E_3A_2D_1G_HC in "Bass" guitar mode.
In addition, Quinta Flat Tuning mode is to support the dropped tunings used in heavy metal styles that produce a powerfully massive sound, the CA-40 provides a Quinta Flat Tuning mode that allows you detect dropped tunings of one through five semitones. This lets you tune super-long scale guitars that extend below the pitch range of conventional guitars. (See: Musician's Friend: Top Sellers )
Arguably the industry standard for hand-held tuners, the popular Boss TU-12 Chromatic tuner ($69.99) offers some of the same features as the Korg but with some professional refinements. In addition, to providing individual LED indicators for notes when in manual mode, it also has a familiar needle display that's easy to read. The TU-12 can be calibrated in 1-cent increments and runs on AC or DC power. And like the Korg, it's extremely easy to use. (See: Musician's Friend: Top Sellers )
The Rocktron X-Tune ($79.00) is a rugged stomp box tuner, perfect for on stage. The Rocktron is ideal for both guitar and bass featuring multi-light LEDs and lighted notes, which makes this unit a breeze to tune on dark stages. The X-Tune features an on/off mute for silent tuning and continuous out for live tuning. What's more, the X-Tune handles 12-note tuning and a 7 octave range. The Calibration function sets the tuner unit to match the pitch of any instrument or audio source. The X-Tune powers by a 9v battery. (See: Musician's Friend: Top Sellers )
One for the rack-rats is the Korg ToneWorks DTR1000 ($179.99). With a Seven-semitone flat tuning and adjustable range, 12-note equal tempered, accurate to 1 cent. Front-panel input and mute; back-panel input, output, and mute. There isn't much the DTR1000 can't tune to +/- 1 cent. The Digital Tuner was designed exclusively for professional and studio use. Proprietary circuitry locks right onto the root tone, ignoring harmonics that confuse lesser tuners. Automatically detects the note name, displays in cents or strobe, 438-455Hz calibration range. (See: Musician's Friend: Top Sellers )
The holy grail of tuners, the Peterson 590 AutoStrobe ($849.99), is usually reserved for workshops and big league guitar techs, offering deadly accuracy to 0.1 cent and capable of taking out intonation gremlins with hitmen accuracy over five octaves. The 590 uses a true strobe—a spinning disc in front of a blinking light—making it very different from digital tuners and even more precise. It's surprisingly easy to use. Plus, it double as a metronome and practice amp! (See: Musician's Friend: Top Sellers )
The End Line
Offering equal accuracy and ease of use, any of the pocket or stomp box tuners above should be a wise investment to spare you from atonal shame. If you're a stage dweller, short-sighted or just a show-off, then try the KORG DTR1000 in your rack. Finally, luthiers, techs and control-freaks couldn't do better than the Spock-inclined Peterson.
Buy Sell Trade MUSIC GEAR at GEAR-VAULT CLASSIFIEDS