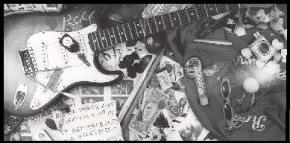 Irrespective of time, place or anything, whenever people talk about guitars, be it anywhere in the world, the name Fender Stratocaster inevitably creeps in.
Since its first appearance in 1954, it has simply taken the world market by storm. No other brand of instrument had ever had such an impact on musicians or rather music all over. In fact, many go to such lengths as to believe that the entire genre and the sub categories of Rock music got developed due to the sound produced by the vintage Fender Stratocaster model. But then, it's hard to deny such a claim if the list of musicians who advocated this guitar contains names like Jimi Hendrix, Buddy Holly, George Harrison, Jeff Beck, Eric Clapton, David Gilmour, Ritchie Blackmore, Mark Knopfler, Pete Townshend, Steve Ray Vaughn, Yngwie Malmsteen, Dave Murray, Eric Johnson and Robin Trower among others.
Among the notable features of the vintage strat model, was its body which used to be carved out of a single piece ash wood which was replaced with alder after a few years. However experts still credit the ash body Stratocaster for the rich "signature" fender sound. Moreover due to the difference of the grain of the wood, the ash and alder models differ in weight as well as appearance owing to the finishing touches given to the sunburst bodies. Another significant aspect was the different signature(s) put on the guitar which included dates on the neck and the tremolo cavity at the back of the guitar and even the initials of the craftsman on the neck, all of which ceased to appear towards the late 1950s.
A further trait seen in the vintage Fender Stratocasters was the application of the nail technique. It is all about the use of nails temporarily to support the body of the guitar while paint and other finishing touches were applied to it. Later, the nails used to be taken out. It was a total combination of all these that made Stratocaster gently weep in George Harrison's arms.
Gear-Vault Classifieds is an eBay alternative. Come sell with us!