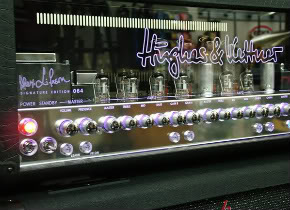 The Triamp MKII is another wonderful all tube-driven offering from the guys at Hughes & Kettner. Designed to be a versatile rock machine, this amp has been used by a couple of gents who just happen to know a thing or two about amplifiers – Tony MacAlpine, Allan Holdsworth and Alex Lifeson.
With a bit of searching I was able to find a couple of audio samples of the Triamp MKII. Giving them a quick listen, I noticed that the amp produces an excellent clean tone, and was able to morph into a more serious crunch. I have to say, this amp would be an awesome choice for fans of classic amplifier tones.
The MKII is a 100-watt footswitchable amp with two channels per amp section, a 3-band equalizer, a built in effects loop (which can be run in either serial or parallel modes), and the ability to install a MIDI module (enabling remote MIDI switching ability).
Here's a list of the amp sections for the Triamp MKII:
1A: Vintage Californian Clean
1B: Vintage British Clean
2A: Classic British Rock
2B: Vintage British Rock
3A: British Hot Rodded
3B: Modern Californian Hi Gain
With three amp sections and two channels per section, you can dial in awesome tones for days.
The Triamp MKII features four EL34's in the power section and nine (yes…nine) 12AX7's in the preamp.
And of course, Hughes & Kettner's famous clear-blue-light-up good looks!
So what are users of the Triamp MKII saying?
"I have never had a problem with my Triamp MKII over the one and a half years I have owned it. It is very consistent, and I wouldn't hesitate to gig with it alone. The tubes that come stock in the amp are great and reliable."
"I love this amp!! It has a nice, sharp distortion and a warm clean sound. Overall, the sound is razor-sharp. It definitely goes loud enough!!!"
The Hughes & Kettner Triamp MKII is a formidable piece of gear that will give you a plethora of sonic possibilities. Go check it out!
Hughes & Kettner Triamp MKII