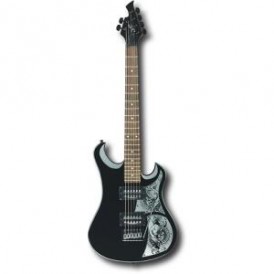 MOST ENTRY-LEVEL electric guitars look dorky. You would probably be better off saving your money and buying a pair of suspenders, moon boots and Napoleon Dynamite glasses so at least you wouldn't be broke after the inevitable ass-whoopin' you would receive.
Fortunately, First Act is giving aspiring players increased odds for survival with its new Premium Metal electric guitar. Although this affordably priced guitar is sold by retailers like Toys R Us, it's not a toy but rather a cool-looking, high-performance ax.
FIRST ACT GUITAR FEATURES
THE PREMIUM METAL boasts much of the same attention to detail as First Act's more expensive models, such as beveled cutaways, a built-in boost circuit and a pair of high-powered humbuckers. The tuners, knobs and vibrato unit have a durable black finish that helps to set this guitar apart from the plain Janes in its price range. Even the gothic-looking gryphon design on the two-piece pickguard is undeniably cool and unusual.
Although the basswood body is rather small, it's perfect for preteens or anyone who digs compact guitar designs. The 22-fret maple neck features a wide, flat rosewood fingerboard and has a rock-solid feel with a thin, fast profile comparable to more expensive Ibanez models. The neck pocket fit is tighter than security on the Cheney Ranch. Controls include master volume, master tone and a three-way pickup selector.
FIRST ACT GUITAR PERFORMANCE
INSTEAD Of THE BULKY baseball bat—style necks found on many beginner's guitars, the Premium Metal boasts a neck that's built for speed. The big, meaty frets make it easy to grind away at power chords or shred on solos, although the fret edges could use better attention to detail, as a few were sharp.
The humhuckers pump out surprisingly chunky tone with good definition and sustain. While you don't get a locking Floyd-style tremolo at this price point, the vintage style trem could handle generous abuse before going out of tune, perhaps thanks to the butt-ugly elongated headstock with its weird two-by-four tuner arrangement.
THE END LINE
IF YOU WANT TO buy an entry-level guitar good enough to encourage anyone to retain interest well beyond the beginner stage, First Act's Premium Metal is an ironclad choice. Source: First Act Guitars