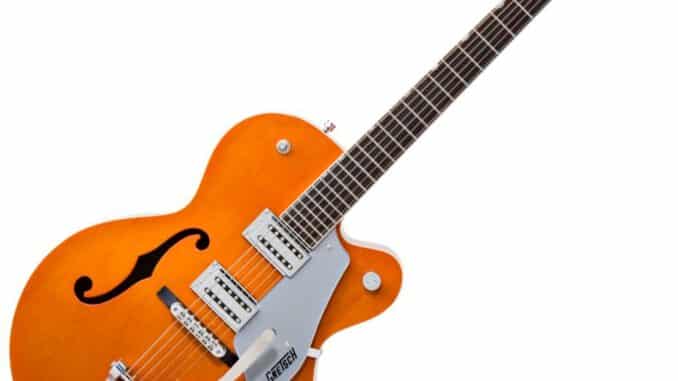 Gretsch guitars are among the most iconic images and sounds of rock and roll, especially the early years. They have also been used by modern players ranging from Dave Stewart to Brian Setzer and, like the Les Paul, Stratocaster, and Telecaster, have never really gone out of style. The only problem with Gretsch is they can be a bit expensive, like many of the finer things in life. Well, good news hep cats and kittens: now there is a Gretsch that sounds great, oozes cool, and can be had for a price that won't give your significant other indigestion. I am talking about the Gretsch G5120 Electromatic hollow body guitar.
One of the coolest guitars in its price point ($699.00), the G5120 will be a dream come true for many true believers out there. It gives players classic looks and tone in bunches, especially when obtained in the to-die-for Gretsch orange finish that we all know and love.
The G5120 comes packed will all the appointments you would expect from the big G, including redesigned Gretsch humbuckers, an adjustable bridge, die-cast chrome tuners, and, yes, a Bigsby vibrato tailpiece. This makes the G5120 a perfect choice for any guitar player into more traditional tones and cosmetics who might be looking for something a bit different that just another Strat or Gibson, although players of other styles might want to have one of these lying around the ol' studio for another color choice or character tone.
The Gretsch is also a good choice for jazz, giving a nice dark and woody sound from the neck pickup. Online reviews will tell you that the G5120 will probably need some setup work out of the box, but that is almost expected at this price point. Once she is dialed in, however, the G5120 is a whole lot of bang for the buck and is a worthy contender for those looking for something classic yet a bit off the beaten path.
[ Take 75% off for Fall Cleaning Inventory Cleaning at Musician's Friend ]
Gretsch G5120 Electromatic Hollowbody Electric Guitar