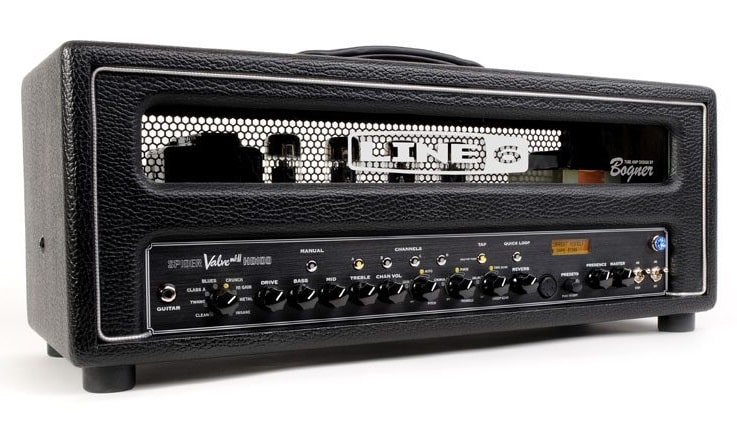 There are no two ways about it: Line 6 has revolutionized the way the guitar is recorded. Since the dawn of Amp Farm, Line 6's groundbreaking (and mind-bending) RTAS plug-in from a decade ago, Line 6 modeling has appeared on more records than you can count. And that number skyrockets when you consider all the generations of POD!
Now there's a new innovation to add to the mix: Line 6 Spider Valve MkII all-tube guitar amplifiers. Together with tube guru Reinhold Bogner, Line 6 has produced a line of workhorse amps that delivers essential tools to recording and gigging professionals.
Line 6 HD100 MKII In the Studio
Let's face it, studios are getting smaller and recording your live tone is no quiet affair. For many players, a software plug-in like Line 6 POD Farm 2 is the obvious choice. But those who are married to their live rigs require other options. This is an area in which Spider Valve MkII amps really excel.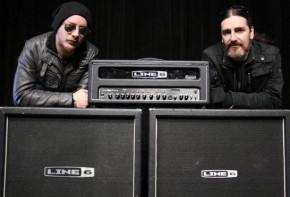 The amp delivers a full spectrum of world-class models and effects complete with rich tube characteristics at moderate don't-wake-the-baby levels. Saturated, high-gain tones sound big and burly; clean jazz tones sparkle and sing.
Need to record at 3 a.m. and be pin-drop quiet? Take advantage of the XLR out. The only sound you'll hear is your pick against the strings. Two output modes deliver record-ready direct signals in two flavors: Performance Mode sends a direct signal that combines amp and effect modeling with tube interaction; Studio Mode sends amp and effect modeling only.
Line 6 HD100 MKII Onstage
Sure, in the studio Spider Valve MkII can play the strong, silent type. But don't miss the opportunity to crank one of these powerhouses to 11. Plug in and hear the latest Line 6 amp and effect models, Bogner tube preamp and power amp, Celestion Vintage 30 speakers, and three-quarter closed-back cabinet work together like a bucket brigade as they quell your burning thirst for definition, clarity, and feel at cheek-flapping volumes. Gigging artists of all genres are glowing with satisfaction.
The line includes 1×12 and 2×12 combos (that claim 40 watts provided by two 6L6 power tubes, and twin 12AX7 preamps running at boutique-approved 300 and 450 volts, respectively), and a 100-watt head (with two 12AX7s and two 6L6s).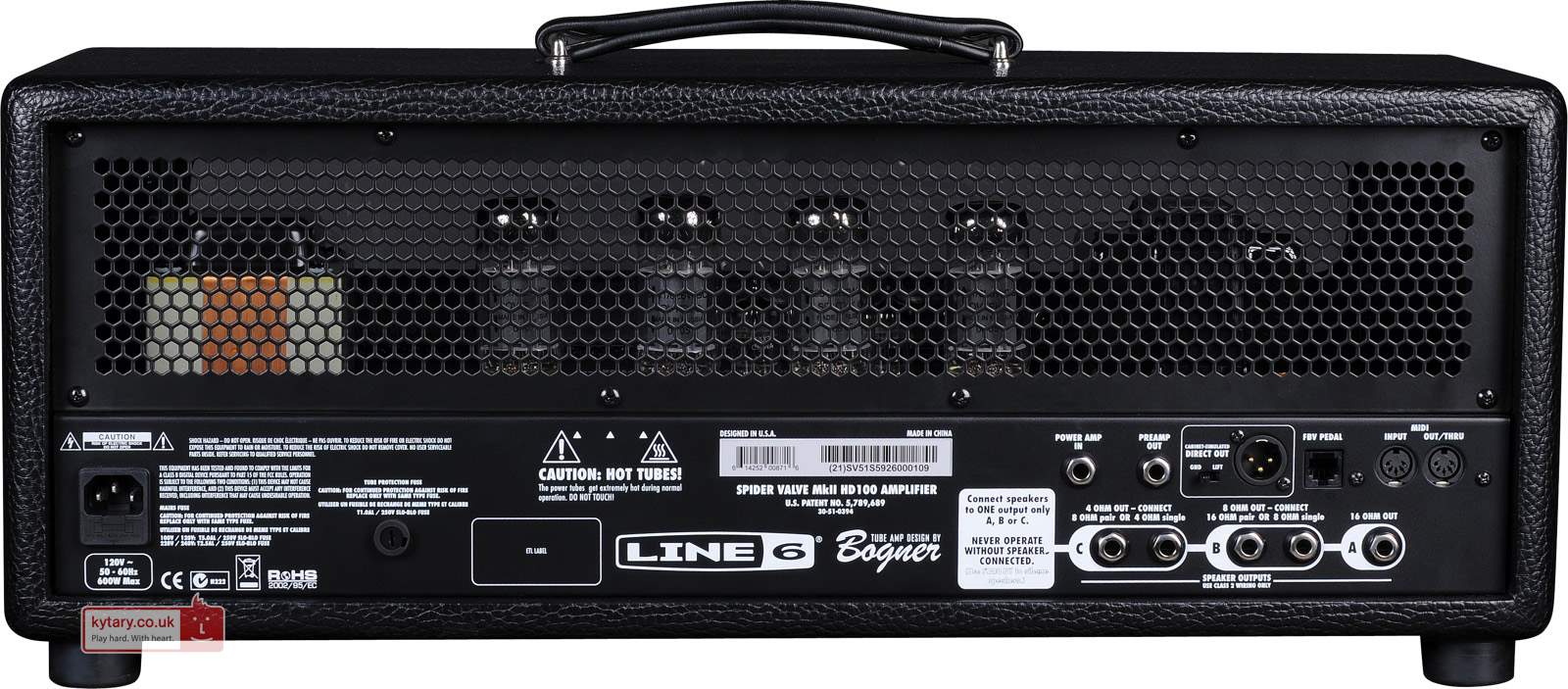 Tone Time Line 6 HD100 MKII
With over 20 onboard effects (that can be increased to more than 50 with a free download from Line6.com) and 16 amp models inspired by immortal modern and vintage gear, you're never without the tones you need.
Adding an optional FBV short board HD100 MkII footswitch elevates the Spider Valve HD100 MkII experience to a whole other level. With it you can download Spider FX Infusion (a free amp update that more than fortifies your amp effect arsenal), download Spider Valve  HD100 MkII Edit (a computer-based editor/librarian), engage up to eight simultaneous effects, get hands-free channel switching, wah/volume/pitch control, and much more. Here's the Line 6 Spider Valve MKII online manual. You can print what you need!
Get in the Game HD100 MKII Video
Spider Valve MkII amplifiers are a working pro's dream come true.
[% oiopub-banner-3-left %]
Written by Marty Jameson
[% oiopub-banner-3-left %]