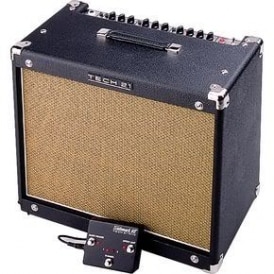 This handsome amplifier system couples two products from New York tone-meisters Tech 21: the popular Trademark 60 combo, and the Power Engine 60 extension cabinet. Both can be used independently, with other products or, as in the case of our review, together for increased spread and power.
The Trademark 60 is a 60-watt, dual-channel solid-state amp with a 12-inch speaker in an open-backed cabinet, and circuitry based on the company's SansAmp tube-amp emulators. Channel one handles all things Tweed-like, and the analog circuitry power that Tech 21 needs neither tubes nor 4×12 cabinets to do a fine impression of either. A "punch" level lets you dial in a harder, mid-range grit, and a "bite" switch adds low-end sparkle and focus.
On channel 2, a drive control heaps on enough dirt to keep British-stack fans happy, and the "growl" knob increases "scooped" wallop without any loss in volume. This channel also benefits from a level control and a "weep" switch, which adds warmth and girth. The master section provides active low- and high-eq controls, a presentable clean boost (up to 9dB) and a reverb control for the full-length Accutronics spring reverb. Lastly, a link switch allows the boost and reverb to be present together and called-up via the three-button footswitch. Rear panel connections offer headphones, extension speaker and send and return jacks. There is also a SansAmp circuit XLR direct out for recording and PA applications.
The Power Engine 60 is brilliant in its simplicity. Designed to complement the Trademark 60, it provides a matching 12-inch speaker in a matching open-backed cab with 60 watts of transparent power to go, an active three-band eq and ¼-inch and XLR inputs. There is also an XLR output, with ground lift, which can run to a PA or to as many Power Engines as your ego allows.
In tandem with the Trademark 60, the Power Engine can double the amp's output or create complex stereo soundscapes. By making adjustments in the Power Engine's tone, we were able to fatten up the sound and create a wider spatial range. The Power Engine can also be used with any direct-recording device or acoustic pre-amp, delivering 60 watts of clean power without tonal coloration. For guitarists who occasionally need more power but don't want the hassle of toting a large amp, the Power Engine 60 is a portable, affordable solution.