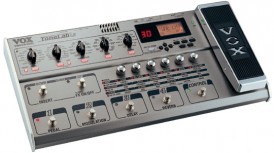 Vox ToneLab LE brings together some of the most soulful guitar tones you've ever heard into one compact, easy-to-use processor. In fact, the sounds are so authentic, you'll think you're plugged into a collection of real amps and cabs complete with a bunch of boutique effects.
The ToneLab LE gets a shed-load of cutting-edge features including an expanded EQ section, and extreme metal distortion, slap reverb, a luscious multi-tap chorus plus a stunningly lifelike acoustic guitar simulator. And all this on top of true tube tone courtesy of the sonically awesome 12AX7-powered Valve Reactor. The LE's multiple outputs mean you can use it in every imaginable application; live on-stage in front of an amp, D.I. through your PA and of course, recording at home or in the studio – Vox even added an S/P DIF output. With all these features, you'll be your sound engineer's best friend.
Head over to your local Vox dealer and check one out for yourself, or check online for the best possible prices. For more information, check out what people are saying about the Vox Tonelab on the guitar message forum — Click the link.
Watch the audio/video Demo of the Vox ToneLab LE below