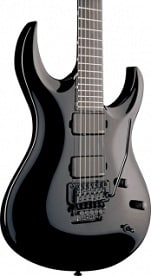 For many players, the notion that shred has died is nothing but a bold faced lie, even though the rumors have been bouncing around since the beginning of the same. Shred still maintains a solid fan base, thanks to fast-fingered players like Via, Satch, John Petrucci, and a few select others. Of course, when it comes to near godlike technique, one needs an equally well built axe that can dish out the shred (as well as take the abuse…seriously, have you ever seen Vai live?). Fortunately, Washburn Guitars graced us with the HM series of guitars, which are designed with shredders and heavy metal warriors (hence the HM) in mind. Of course, one couldn't have shred without being quirky, so oddly enough the model numbers do not begin with HM. Today, we're checking out the Washburn WM526.
If you are looking for a guitar that is built for speed, the WM526 is it. The Washburn guys gave the WM526 a set Mahogany neck that comes in a 25.5" scale, a carbon glass composite fretboard, Parker stainless steel frets, a Buzz Feinten tuning system, an original Floyd Rose tremolo setup (mandatory for dive bombing and screeching), Grover tuners and pair EMG active pickups (namely an EMG 85 in the neck and an EMG 81 at the bridge). OK, you can breathe now.
The Washburn WM526 is an American-made guitar with very sleek looks. Fortunately for those non-shred types, the guitar doesn't appear so extreme that it would be out of place in less-than-shred bands, but it's weapon-like appearance does fit nicely into metal applications.
The WM526 has a somewhat neutral tonality, thanks to its Mahogany body and active pickup system. What does that mean? Your amps and effects will play a much larger role in the overall tonality of your sound. While this may be a turn-off for some, it's sure to bring a smile to the face of gear fanatics.
A demo of the WM526 through AmpliTube Metal (a software plugin by IK Multimedia) yielded some interesting results. The WM526 was able to easily adapt to various effects and gain models without sounding muddy (regardless of the amounts of gain). The clarity and definition of the notes were excellent, and the WM526 easily churned out major seventh chords under high gain without the total chaos that a passive pickup system would unleash.
Anybody who has ever attempted to change strings on anything with a Floyd Rose knows that there are some obstacles involved, and the WM526 is no exception to this. Of course, one is usually willing to sacrifice a little ease of use in order to have a guitar that stays locked in tune despite all of the insane whammy bar antics that your typical shredder can dish out.
The WM526 doesn't weigh a ton (like some other Mahogany guitars), and is comfortable in both sitting and standing positions. The neck is neither too fat nor too thin, and the set joint is smoothly curved with almost no body bump. Reaching the higher frets on this guitar is very easy. Also, the fretboard is built for speed, featuring its carbon glass composite with an almost flat radius and virtually no resistance.
With the WM526, Washburn has created a monster shred machine. With its high-tech fretboard, high clarity, and well-behaved tonality, the WM526 will allow you to lash out with ease, all while staying in tune thanks to the Floyd Rose tremolo system.
Washburn WM526 Guitars