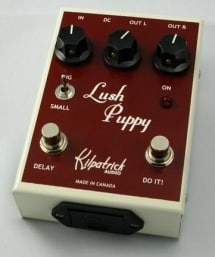 The Lush Puppy is a premium Reverb and Delay effect pedal by Kilpatrick Audio. A relative newcomer to the scene, Kilpatrick Audio offers a line of guitar effects pedals that promises players excellent sounding effects, a stylish and classic look, and North American handmade quality.
Aiming to satisfy a wide range of playing styles, the Lush Puppy has two distinct reverb sounds. The Small setting offers a sparse and bright reverb that can easily take the place of a spring tank without sounding harsh or brittle. The Big setting offers more depth to the sound and is very satisfying for slower playing or acoustic guitar. The Reverb is very rich with enough definition to maintain the tone and attack of the original sound. The dedicated Size and Mix knobs provide extreme versatility and effortless shaping of the sound.
In addition to the two reverb sounds, the pedal has a single slap-back delay which really shines for blues or country playing. The time can be adjusted up to half a second, and the delay can be switched on and off with a dedicated footswitch. The delay and reverb effects compliment each other nicely, making the Lush Puppy a pedal that could live in an amp effects loop all of the time.
The pedal itself is made of strong metal, with premium Neutrik jacks, solid switches, and a convenient battery drawer. There is a clear red LED that shows when the effect is active, and stereo output jacks which can be used for a dual-amp or recording setup.
The Lush Puppy is an impressive pedal, delivering exceptional sound and construction quality alike. Kilpatrick Audio is offering an outstanding product that will fit well in any rig, both on the road and in the studio.
The Lush Puppy is $229USD and can be ordered directly from Kilpatrick Audio: www.kilpatrickaudio.com.
Kilpatrickaudio Lush Puppy