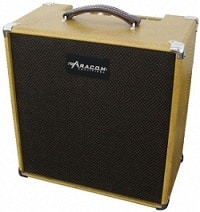 The ARACOM Vintage Rox VRX22 incorporates a half power B+ voltage switch that boasts 22 and 10-watt modes, 2 channels, with separate Vintage and Modern voicing.
The amp's Master Volume control combined with the half power switch, allows you to produce high-level tone at moderate volume levels. The VRX22 amplifier is not only a tone monster, it is a cost effective solution for those players who look for a custom, handwired tube amplifier.
What's more, the VRX22 is powered by a pair of 6V6 valves, and offers tones from "Tweed Deluxe" to a 6V6 amp on Schwarzenegger-type-steroids.
The VRX22 is available in a compact head, 1×10 combo, or 1×12 combo design. The amp is perfect for those looking for both vintage and modern tones, but without the bulk or enormous price tag. The Vintage Rox Series also includes the VRX18, an 18 watt EL84 powered amplifier.
Street Price: $895 for the head and $995 for the combo.
Visit their official website at www.aracom-amps.com for more information.
ARACOM VRX22