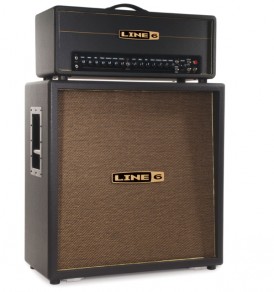 DT50 marks a new breed of amplifier—not just for Line 6, but for all of us. Their remarkable new amp builds a new relationship between classic (and in this case very modern) boutique-style amplifier design developed by amiable amp guru Reinhold Bogner, and the cutting-edge technology of Line-6's HD amp modeling—now more advanced than ever. It's time to assimilate a few new words into your sonic vocabulary.
Inside DT50 Line 6 amplifiers
The DT50 is a straightforward tube amplifier with dual EL34 tubes that kicks some serious butt at both 50 and 25 watts. The revolutionary Bogner amp design is his most flexible yet with many reconfigurable parameters. Aligning itself with Bogner's power section is brand-new Line 6 amp modeling technology that, on its own, delivers previously unachievable heights in dynamics, tone, and feel. When it integrates (and it really does integrate) with the power section and reconfigurable analog components, the result turns DT50 into a seriously formidable tone monster that is greater than the sum of its parts.
Finding your voice
The heart of DT50 is its unique four-way "Voicing" toggle switch. Going through the four immortal Voicings and auditioning each one's feel, tone, and playability makes you think you've stumbled upon a speed-dial to the best of four classic tone kings: classic American clean, chimey and crunchy English tones, and modern high-gain distortion.
Each Voicing is the perfect recipe of preamp and tone stack fueled by HD amp modeling technology and automatically paired dynamic analog circuitry including tube configuration and negative feedback topology. These analog parameters physically adjust inside the amp when you choose a Voicing. At the flick of the switch, everything falls into place to deliver the absolute best British and American sonic signatures ever assembled in one box. My favorite is Voicing II, which conjures the creamy, vintage English tones we fell in love with in the '70s.
What's more, you can put your own John Handcock on these sonic signatures with front-panel Class A/Class AB, and pentode/triode switches. Ever wonder what your favorite British Class A/B amp sounds like in Class A? Want to run your favorite single-ended Class A amp tone and give it more headroom in Class A/B? Well now you can.
Every spot is the sweet spot
Another benefit of the marriage of HD modeling technology to tube power section is its ability to attain sacred sweet spot tone at all levels. When cranked with the master volume completely open, it sounds glorious with cascading natural tube distortion. At lower volume, the remarkable DSP kicks in to give you that same amazing full-color tone without pushing so much air.
Versatility with simplicity
For such a versatile amplifier, DT50 is remarkably simple with two identical channels that can be set any way you please. Line 6 and Bogner have developed a streamlined and straightforward layout for the working musician, one without the over-burdened complexities of other modern amps. Each channel uses a standard knob layout of gain, treble, mid, bass, presence, volume, and reverb.
Cross-loaded Celestion Vintage 30 and specially voiced, custom-designed Celestion G12H-90 speakers bring out the qualities of both in a single, tonally complex sonic projection. (The 2×12 combo has one each, the matching 4×12 cabinet has two and two, and the 1×12 features a single G12H-90.)
Connectivity
For the tonal stage solution, connect a new POD HD floorboard-style muli-effect unit to your DT50. It will integrate seamlessly via a proprietary L6 LINK connection, and the gear will actually "talk" to each other for optimum tone and control. The 16 HD amp models and generous FX collections of POD HD sound and feel stunning through DT50.
The new DT50 is a truly remarkable advancement in amplification. Behind you onstage, its wide variety of celebrated tones and simply interface will help you reach new levels of amp blissdom!
Source: Musician's Friend
– Robb Lawrence
Line 6 DT50 Guitar Amplifier