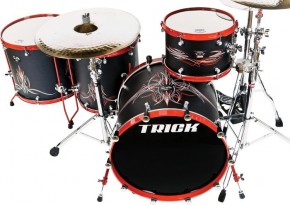 Where does innovation come from? Is it a magical drawing board, a folded cocktail napkin in a coat pocket, a late night spit-ball session in a conference room? Why does advanced design speak to us so fluently? Is it the art of it, the timeless style, or the quality in the craft as we hold it in our hands? When does the ancient, simple and humble drum begin to push the envelope of its technology?
The Trick Drum Company of Arlington Heights, Illinois has been pushing the limits of drum making for more than twenty years. Drawing inspiration from his years in drag racing, Trick President Mike Dorfman found a way to move the drum forward by aligning it with his passion for motors-ports. The result is a line of drums and percussion accessories made from the same materials (like super-alloy AL13) used in the high-performance, high-punishment realm of auto racing.
It seems fitting then, that when the masters of the motorcycle – Orange County Choppers -needed to have a new custom set of tubs made for their house band, they teamed up with the gear-heads at Trick to create one bad-ass piece of musical metal. The Trick / "OCC the Band" drum kit!
Trick's machined aluminum shells are the perfect template for the custom bike builders of Orange County Choppers, who themselves are known world wide for pushing the form and functional limits of the motorcycle. Here's what OCC President Paul Teutul Sr. had to say: "We are completely knocked out by the graphics that Trick is able to put on drums, as custom motorcycle builders, we have very high standards for combining art and machinery and, once we saw what Trick could do, we knew they were the right guys to build the drum kit."
The Trick – OCC kit will be ready for its close-up on Thursday evenings at 9pm ET/PT on TLC, and in live performances and events around the country. Trick also will be offering reproductions of the OCC snare drums and full sets (!) and will have them for sale to drummers and bikers through its own online store, www.shoptrick.com Trick's Mike Dorfman adds this: "There's a pretty significant crossover between people who love drums and people who love bikes, and we'll have something pretty cool for all of them."
It seems "OCC the Band" is gonna be rockin' a little harder with the help of their new Trick Drums, viewers can just sit back and enjoy the ride….which is nice! It's also available to buy, check for price. For more on what Trick has up their sleeve, visit: www.trickdrums.com
Trick Drums