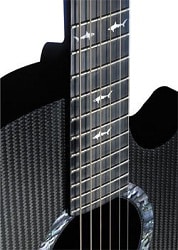 It's safe to assume that no trees were harmed in the making of RainSong's guitars. That's because RainSong acoustics are constructed from no less than 100 percent graphite: Wood is replaced by black unidirectional graphite for the soundboard, back, sides fingerboard, bridge, tailpiece and headstock, then strengthened in areas, such as the neck, with woven graphite fibers. Without the sensitive properties of wood, RainSong's guitars are impervious to the effects of humidity and temperature. Plus, they're tough enough to take abuse that would make kindling of traditionally crafted instruments.
The first of these Hawaiian-made instruments is the Limited Edition (LE) Electric-Acoustic, of which only 300 were made. The guitar features a semi-hollow body with a single cutaway and a Fishman Prefix Pro Pickup system and preamp. Cosmetically, these guitars are stunning, finished in metallic blue and complemented by a simple abalone rosette, raised Ovation-style around the soundhole. The 20-fret neck is generous without being chubby, and the fingerboard and fretting are flawless, right down to the baby shark inlay at the 12th fret.
The LE's acoustic tone is the real surprise. Far from the synthetic zing you might expect, the LE delivers a surprisingly warm tone, with plenty of midrange and an articulate, crisp response. The strength of the graphite structure allows the soundboard to be thin with a minimal amount of bracing, resulting in leaping dynamics and satisfying sustain.
Hooked up to an amp, the quality Fishman system works its active magic and allows powerful tone shaping with the four-band eq, complete with a notch filter and phase switch to quash pesky barks and feedback. A few minutes' worth of tweaking rewards you with some very natural sounds that can be tailored to optimize strumming or picking styles. Learn good acoustic guitar songs on any acoustic guitar.
The End Line
This is an inspiring instrument, totally unique and different from everything else on the market. The construction, playability and tones are up with the best, and for a guitar made entirely without any wood, it sure doesn't sound like it. Plus, that environment-immune graphite means you can forget about the weather and just enjoy the rain.
Rainsong Carbon Fiber Acoustic Guitar