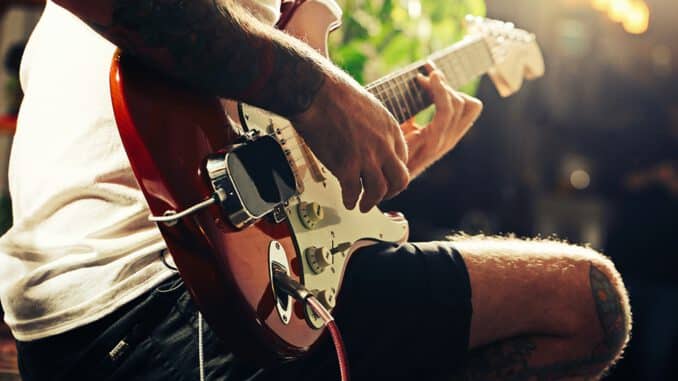 Rock star, Richard Patrick of Filter confesses, "I've never felt more spoiled." What is this rocker talking about? His Fender Custom Shop guitars, of course. Both Patrick and Filter lead guitarist Geno Lenardo are currently playing instruments made by the Custom Shop's Alex Perez.
Patrick has three custom models with Tele bodies and Strat necks sporting CBS-era, Bonnie Raitt model headstocks. "I call it the bellbottom jeans headstock," says Patrick. "Remember how everything was flared out too much in the Seventies?" Patrick and Lenardo both favor Seymour Duncan Trembucker pickups. "We need that fat humbucker in the bridge position to do our thing," says Richie. "And I have a floating vibrato bar on every guitar I use."
The guitars come with names and colors as well. There's a gold metal-flake job called Golden Boy, a silver metal-flake number named Silver Man and an all black model known as Keef, as it was patterned after Keith Richards' 72 black Tele.
Advertisement—————————————
—————————————————————
Geno Lenardo plays a Fender Custom Shop Start with a rosewood fingerboard and a golden-red finish. He calls it Red Rum. "It has just one pickup, a Seymour Duncan Trembucker," says Lenardo. "The toggle switch is set up to do rhythmic gating stuff."
Geno also favors a black and mother of pearl Tele model called Doc Holiday. "It's basically a modified American Deluxe Telecaster, also with a rosewood fingerboard," says the guitarist. "All my necks have rosewood fingerboards. I also have a copper-glitter guitar called Coppertone that I actually snagged from Rich."
The guitarist are at opposite extremes with respect to effects. For live performances, Patrick's sole effect is an Eventide DSP-4000, TC Electronic G-Forc, Dunlop Whammy Wah. Boss Equalizer and a Digital Music Corp. Ground Control MIDI switching system onstage.
On the amplification front, both guitarists use Marshall JMP-1 preamps with Marshall 3200 power amps. "In the early stages of recording Title of Record I just plugged my JMP-1 right into my ADA Ampulator and put it on the cabinet setting," says Patrick. "I only started miking up cabinets once I needed feedback. At one point, I powered up two Marshall stacks, which is what I have on stage. I put this weird tuning on my guitar where the E string goes down to A. So it's A, A , D, G, B, E. And that's the tuning I used when I wrote 'Welcome to the Fold.'"