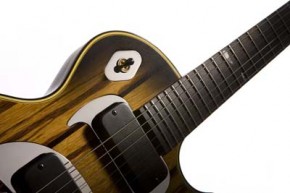 Gibson Guitars are still paving the way in terms of guitar technology. Enter the Dusk Tiger, [Gibson claims] simply the most astounding innovation in the history of the guitar. In the wake of Gibson's groundbreaking Dark Fire, the new Dusk Tiger guitar offers an unprecedented wealth of features to expand your sonic horizons exponentially, yet it brings them to you with greatly increased levels of performance and ease of use, and all at a more affordable price.
And not only does Dusk Tiger offer an awe-inspiring versatility of tone and playability, it also captures a stunning new look that is arguably more refined than anything Gibson Guitars has ever produced. It retains the general Les Paul-inspired body lines, but presents them in a guitar with a flat top made from an exotic hardwood beaming with golden, amber, and dark chocolate hues. [Read more below ad]
All this top is coupled with a tone-chambered back, and a unique new pickguard and control layout. Under the hood, the Gibson Dusk Tiger reveals countless new features that give it even more power, along with considerable upgrades and improvements of existing electronics and control systems, and an unlimited number of sound possibilities. Take a sneak peak at the Gibson Dusk Tiger at Gear-Monkey message forum.
New to the Dusk Tiger are:
Programmable active four-band parametric EQ systems for both the magnetic and the piezo pickups, which allow infinite fine tuning of your tone
Switchable LP-Z High Definition Impedance circuit (low impedance capabilities) built into improved Neutrick jack with both ¼" and XLR outputs
Source: gibson.com. More details and news on availability worldwide to be released by the guitar leader on Monday, November 16, 2009 – We'll update more information as we receive it.
Gibson Dusk Fire Photo Gallary