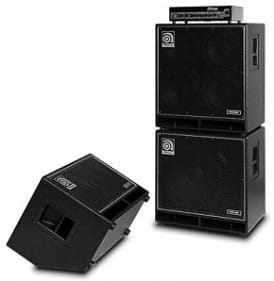 Ampeg bass amps–With over 60 years in the business, Ampeg has become the go-to choice for bass players worldwide. The classic "stack" is nothing short of an icon. The legendary SVT rig endures, but touring bassists are continually pushing the limit when it comes to power and volume. At the same time, they long for a more lightweight, portable setup. Leave it to Ampeg to balance these demands with a new rig that offers extremely high-output, a decided increase in portability and, of course, the legendary Ampeg sound that has shaped the sound of countless bands over the years. The potent combination of their all-new PRO NEO line of neodymium-based cabinets and the lightweight wonder that is the SVT-7PRO is sure to please any bassist that wants it all.
PRO NEO
Ampeg's new PRO NEO Series enclosures effortlessly deliver huge output in a design that's portable, powerful and seriously road-worthy. An example of Ampeg's commitment to deliver on customer requests for U.S.-built Ampeg gear, PRO NEO cabinets are built out in Whitinsville, Massachusetts. They feature U.S. -made Eminence drivers, including custom-designed LF drivers and high-end APT:50 HF driver, all engineered to withstand the intense power delivered by modern bass heads.
PRO NEO enclosures are very compact for the power they can handle (up to 850W for the PN 410HLF) and are built using rugged 15mm birch plywood, with a powder-coated metal grille that can easily handle the inevitable bumps and knocks that touring entails. They are also subject to a rigorous final testing procedure that ensures each cab looks and sounds like it should. Perfect for any Ampeg PRO Series head, the new PRO NEO enclosures will undoubtedly be seen and heard on tones of stages this year.
Check for price.
SVT-7PRO
An excellent match for the PRO NEO cabinets, the new SVT-7PRO delivers the power and portability that truly completes the modern Ampeg rig. Weighing in at only 15 Ibs, the SVT-7PRO provides 1000W of power at 4ohms, allowing you to hook up a couple PRO NEO cabs with no problem. The staggering power to weight ratio is possible due to Class D power amp design.
Class D amps are extremely efficient and lightweight, and since the SVT-7PRO has a nice JJ 12AX7 fed preamp section, it still cranks out the genuine Ampeg "Round Sound". Its features include everything bassists have come to love from the other PRO Series heads, including a 5-position mid-tone control and onboard variable compressor. The SVT-7PRO truly offers a high-power solution that retains the classic Ampeg tone in a design that you can throw in a backpack after the gig. Try doing that with the standard 1000W bass head.
Conclusion
The modern bassist demands a lot: huge volume, high power and great tone. When spending hard-earned cash on a new rig, there are often compromises made in one or more of those areas. This great new Ampeg rig delivers on all fronts and does so in a surprisingly portable design. If you're looking to upgrade your rig, be sure to check out the new PRO NEO cabinets and SVT-7PRO head. It's a modern rig for a modern world, and it's completely Ampeg. Check for price.
By David Ryan
American Musical Supply
Ampeg SVT-7PRO Video Demo