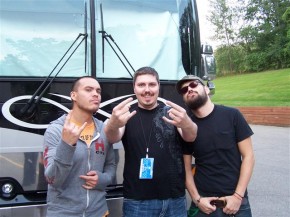 Auburn Hills, Michigan — DTE Energy Music Theatre, Carnival of Madness Tour — If you were one of the fortunate 15,000+ people in attendance at the August 7, 2010 show, you'll certainly remember how kick ass it was, well… depending how drunk you were. The Music Theatre was hoppin' and the energy was just absolutely astonishing, I wouldn't doubt Michigan has some of the most passionate rock fans in the world.
First on stage was 10 Years; these Tennessee rockers know how to pump out the energy and rev up the crowd. Their set list was packed with hits such as "Wasteland", "Beautiful", "Actions & Motives" and "Shoot It Out". 10 Years will release their third album titled "Feeding the Wolves" on August 31.
Before the show kicked off we had the chance to sit down with Brian and Tater from the band, 10 Years. These guys are two of the coolest and most down to earth guys you'll ever meet. They definitely showed us good, old southern hospitality. Brian and Tatar did a gear run down with us, showed us their guitars and amplifiers they use on stage, and talked about the recording process on "Feeding the Wolves". If you are in the early stages of playing guitar or a musician in a band trying to make your mark in the music industry, then you don't want to miss this interview. Stay tuned for Gear-vault's exclusive sit-down interview with the guitarists of 10 Years, Brian and Tater.
Here's a blurb about my day at the DTE Energy Music Theatre in Auburn Hills. We arrived around 2:30pm, met 10 Years' tour manager to get our credentials. Really cool guy, made sure we were taken care of. We made our way on the tour bus and introduced to Brian and Tater. We sat down on the couch in the well air-conditioned bus. We shot the shit for a few minutes with Brian and Tater, but because the bus had other activities going on, Brian asked if we'd like to do the interview in a more relaxed and undisrupted setting. So we went to the bands dressing room, which was a decent place in itself; there was a couch, table and some chairs in there. 10 Years' dressing room was next to Sevendust and Puddle of Mudd.
After the interview, Brian and Tater took us out to the stage to run down their gear with us. We snapped a lot of great photos of their equipment as the road crew was setting up the stage — we'll share the photos when we post the exclusive interview on August 31st — There was an insane amount of activity and equipment getting setup on stage. I counted about 3 or 4 semi trucks unloading equipment. Between the five bands playing the Carnival of Madness tour; 10 Years, Sevendust, Puddle of Mudd, Chevelle and Shinedown, that's a lot of equipment on stage! I was like a kid in a toy store.
Around 5:30 p.m. the gates opened and the crowed started packing in. I did get some images of the clusters of fans rolling in while I was on stage. It has to be a rush for bands playing in front of 15,000+ people. It was a total buzz from my perspective! I can't express how great the fans were, I'm sure the show in Auburn Hills, Michigan will be a night these five great bands will remember, no matter how drunk they got.