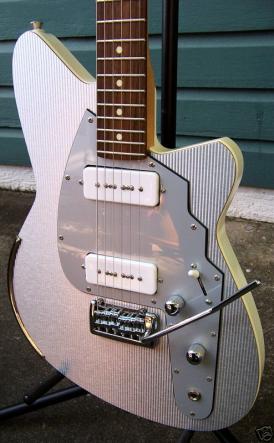 Imagine a Fender Jaguar mating with a 1950s Formica diner table. Imagine their numerous love children, tiny guitars adopted by Leo Fender and raised in the Danelectro plant in Neptune, New Jersey. Fed on the finest pickups and hardware, these unlikely creatures establish their own religion and take on names like "Avenger," "Rocco" and "Rumblefish."
Joe Naylor must have imagined just such a scenario, for he has released upon the world the Reverend series of guitars, and things will never be the same.
The immediate-knockout looks of the Reverend series are the result of Naylor's resplendent combination of stylish curves, flashy color combinations and wood-based phenolic, a plastic similar to Formica. If the Reverends were just a fashion statement, they'd be a big splash in a currently sleepy guitar pond. The real news is that they play great and sound surprisingly good to boot.
Three Revs came to us for testing. The Commando comes with and overwound Strat pickup in the neck position and a coil-tapped humbucker in the bridge position, while the Slingshot is decked out with two P-90s. Both guitars have Tele-style "hard tail" bridge assemblies with the strings running through the body. The Spy was outfitted with three Kent Armstrong chrome lipstick tube pickups, a five-way selector switch and a fulcrum tremolo (a custom option).
The Reverend bodies are semi-hollow in construction, utilizing phenolic tops and backs laminated to a center block of white mahogany into which a small steel bar is embedded to add extra chime. The result is a guitar that has the attack and sustain of a solidbody with the acoustic tone of a semi-hollow. The bolt-on maple neck, which sports 22 jumbo frets beautifully mounted in a dot-position rosewood fretboard, is decidedly club-like, yet not too extreme. Combined with a well-rounded should and a honey-toned matte finish, the feel is decidedly friendly to thumb-over players, yet the excellent setup and fretwork invites delicate thumb-behind technique as well.
Once I got past the guitars' good looks, their remarkable acoustic tone grabbed my attention. The relatively low action with .010-.046 strings felt breeze easy, and only the Commando hinted at the slightest bit of string buzz after suffering through some extreme mid-Spring humidity changes. There was no disappointment in the amplified sound either, as each set of pickups delivered its own unique tone to its respective instrument. The Commando's hot Strat and humbucker combination had the most focused high end and the best settings for creamy overdrive. The coil tap acted more like a volume boost-and-cut on the humbucker, which is a welcome relief from taps that seem to rob a pickup of its identity when it eliminates one coil.
Advertisement————————————
————————————————————
The trem-equipped Spy bears the most comparison to the Danelectros and Strats which inspired the Reverend line. It did full justice to Kent Armstrong's lipstick tube pickups, revealing all the piano-like ring they're capable of in clean settings as well as that sought-after high-mid grind which slightly overdriven amps pull from them. The five-position selector switch allows for near-Strat notch tones with gobs of warm bottom and a touch of quack. The tremolo system was a thing of beauty and a joy to wiggle. Chunky yet old-school in design, my guess is that it's designed by whoever did the Paul Reed Smith tremolo. If you've ever dropped tension with one of those babes, you'll know the feel: a perfectly set-up floating Strat that returns to pitch again and again.
My all-time fave rave of the three Revs was the Slingshot. P-90 pickups are a very underrated commodity in guitardom, and the Slingshot reveals just what everyone is missing. The bottom is warm yet focused, there's nice midrange texture and the highs ring like autumnal church bells. The bridge adds some snarky honk for leads, and when you toss in a little amp overdrive, every setting punches like Muhammad Ali, yet instantly backs off to reveal the Reverend's sweet acoustic driven sustain. I'm already scheming how to rustle up the relatively modest dollars for a Slingshot in aged white and with the gold mist pickguard and tremolo. https://www.reverendguitars.com/
The End Line
Reverend makes a great guitar at a great price. The only criticism I can conjure up is that some players might not buy into the wicked cool looks or the texture of phenolic. Their loss. Can I get an "Amen" from y'all?
Gear-Vault Classifieds is an eBay alternative. Come sell your used guitars and amps with us, for free!