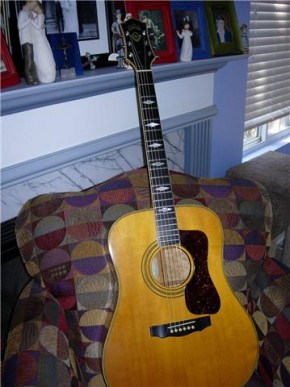 Welcome to the first installment of Mike's Secret Stash, a new section of GearVault dedicated to used and personal gear that is designed to give all you musos out there even more to hunt for and crow over. We cover lots of brand new products every day here at the Vault, but we all know searching for used deals and rare birds is just as much fun, so we will be bringing you semi-regular articles about cool pre-owned stuff we play, have found, or are still lusting for.
Since this is my little soap box, you get to see stuff from my collection first. Today, I am going to show you one of my all-time best friends, my 1986 Guild D64-QM, which I have owned since 1990. The Guild D64QM is a dreadnought acoustic guitar that was produced in very limited numbers.
It features a spruce top, an ebony fretboard, and solid maple back, sides, and neck (the QM in the model designation stands for "Quilted Maple"). It also has the split "G" headstock inlay typical of better Guilds. I came upon this one day while out shopping for a higher end acoustic. I had tried out a bunch of Martins and other brands when the guy at the shop I was in said "I know which guitar you ought to see" and brought out the beauty you see before you. A look and a strum and I was hooked and it has been with me ever since.

Sure, the QM is a looker, but the real treasure of it is the sound. It is not as bright as one would expect for an instrument with so much maple in it. Rather, the sound is warm and evenly balanced, with warm and complex overtones. It records very well, as you might imagine, and is one of those guitars that is immediately loved by anyone who plays it. Other than what I have already told you, I don't really know much about it, as it is a fairly rare piece, and I have never seen another one.
If anyone out there in GearVault-land knows anything about these or has another example, get in touch with me here on the site and we can compare notes. Keep watching this space for more stuff from my personal warehouse and other cool used guitars, amps, and pedals I run across. See you next time here on GearVault!!