Here's your chance to win a $3,000 Gibson (Slash Signature Rosso Corsa) Les Paul. This axe has a beatiful AAA-grade maple top. This Slash Signature Les Paul is built on a foundation of the same traditional tonewood combination that helped to make the Les Paul Standard legendary when it first arrived six decades ago. Read more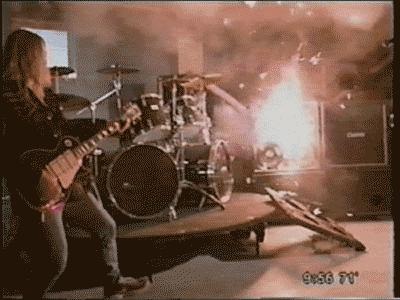 To get the most out of your tube amp, which can be a hefty investment, here are some easy to follow handling and maintenance tips. There's no arguing that tube amps still set the standard for tone – modern solid state and digital amps merely emulate the tube amps of the past. The unfortunate drawback however, is that tube amps are more expensive and fragile compared to solid state alternatives. Repairs and maintenance add to the already high costs of tube amps. Thankfully, some of these extra expenses can be avoided with proper care and maintenance. Read more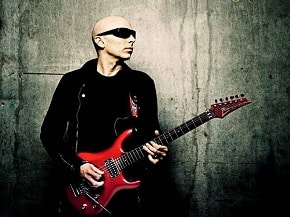 Electric guitar fans everywhere clap your nimble hands.  Our favorite wizard (no, not the bespectacled Harry Potter) has unveiled his current live setup–or, you could say, his book of spells.  For those who don't know, Joe Satriani is on his Wizards and Wormholes tour, where he's showcasing songs from the new album, Black Swans and Wormhole Wizards, along with old classics like "Flying in a Blue Dream", "Satch Boogie", and "Andulusia".  While Satch has always been very down-to-earth and open to discussing guitar technique, it's always a treat to get a glimpse of what goes down behind the tech-side of the curtain. Read more


Here's your chance to win a beautiful Gibson ES 335 Semi-Hollow body Joe Bonamassa Signature Model guitar! This guitar values at around $3,300 big ones.
Contest ends April 4th
Don't be stingy! "GET ACCESS" by Tweeting, Like us, or +1 us to share this giveaway with your friends. After you share and get access, you will see the "ENTER TO WIN" button. After you click "ENTER TO WIN" just enter your email
Video: Gibson ES-335 Joe Bonamassa
See this guitar in action!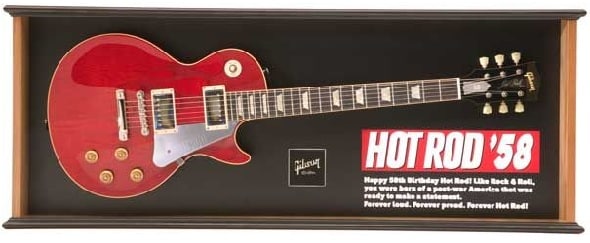 Hey GearVault readers, awhile back I randomly signed up to a guitar giveaway that I found on the net. I figured it was a waste of time because I NEVER win anything (hence, why I don't play the lottery =). A month or so later I received an email saying I had won their contest and they shipped me a Gibson Les Paul Studio equipped with P90s and a Fender Deluxe combo amplifier. I was delighted! Though I already have my own gear, I just gave this stuff to my nephew so he could learn to play guitar. After feeling lucky, I downloaded an auto-fill extension to my browser (in my case Firefox) and signed up to a bunch other gear giveaways, it literally took 5 seconds and the effort involved one click of the mouse. About a month later I received a Maxon OD808 pedal in the mail.
So this gave me an idea! I decided to report every guitar/gear giveaway to you, GV readers, so you can get in on action! Of course since I have my handy-dandy auto-fill extension connected to both my FireFox and Chrome browsers, one click the mouse BAM! I am entered in these giveaways too… However if I win, I don't need the guitars and gear as I have my own setup, I would rather give GearVault readers any merchandise I win! So when I win gear I will pass the equipment on to a dedicated GV reader. If you are not on GV's mailing list, then obviously your email won't be there to get selected for a chance to win, so you are going to want to sign up to the Feedburner mailing list below and activate it to prove your email is valid. If you fail to validate your email then it won't show in our system and you will miss out on the chance to win. Another really cool thing is when you are on our Feedburner mailing list, you will get notifications of cool giveaways and hot news, but don't worry, like you, I hate spam mail… so you don't have to worry about that!
Enter to Win Guitar Giveaways 4 Life!
As well as receive other Guitar & Gear News!
Disclaimer:
By entering above you agree to receive mail from GearVault. You will not only be registered in our system to win free shit, but you will also get updates about guitars, guitar songs, interviews, news and other cool state of the music gear.
Only valid users are eligible to win.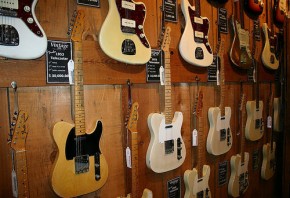 There is a lot of fuss made in the guitar community about so-called 'vintage' guitars, 'vintage' being another word for 'old'. There is a certain part of our world that longs to play a 30-, 40-, or even 50-year-old guitar or bass for a variety of reasons. To be honest, there is something to this argument when it is applied to instruments that truly are products of what many to be the 'golden era' of guitar production in the USA which, if we combine acoustic and electric guitars, would be roughly from the 1920's to about 1970.
Read more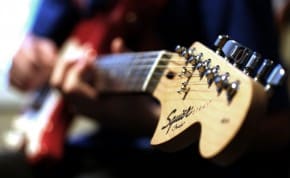 As a guitar instructor, I routinely deal with students trying to learn songs they want to play. After all, that's the whole point of this thing of ours, right? The thing that I notice over and over, however, is the increasing dependence of most students on some sort of online tab website to provide the details on how a given song is played, rather than learning the song in the time-honored play-along-with-the-record ear-based method. Read more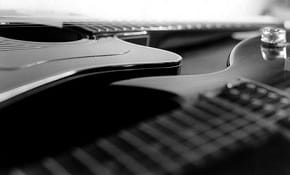 Electric guitars, for all of their versatility and technology (never mind popularity), owe their existence and success to just one thing: The acoustic guitar. Somewhere in between those two types of the same instrument lies an evolutionary process of Darwinian proportions. The same can be said of precious few other instruments Read more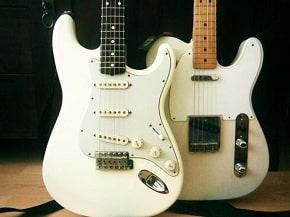 It may seem quite the stretch to lump bass fishing, guitars and eBay all into one simple concept, but it can be done with some patience and plenty of hydration. Anyone who understands the predator-fish that is the large-mouthed bass knows that they don't exactly go out and forage for their food. They prefer to hide in the murky shadows and ambush their unsuspecting prey.  Read more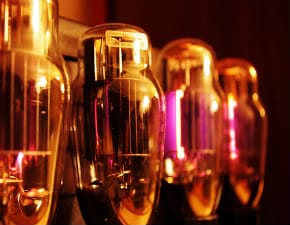 What is a vacuum tube? — If the link between a light bulb and a raging Marshall stack doesn't seem obvious, take a glance at those vacuum tubes glowing inside your amp. And then pay your respects to Thomas Edison, the Wizard of Menlo Park, New Jersey.
Edison produced an incandescent light bulb in the late 1870s by feeding an electric current to a filament until it burned bright red. He then sheathed the filament in a glass bulb and extracted the oxygen, thus creating a vacuum to prevent the filament from burning up.
During further experiments in 1883, Edison detected electrons flowing from the filament, through the vacuum and over to a metal plate he had placed inside the bulb. This discovery, named the Edison Effect, remained a minor phenomenon until another scientist, John Fleming, found that these electrons could be used to detect radio waves and convert them into electricity. Fleming added a second metal element to the bulb, thereby creating the first diode, or—to use a name more familiar to guitarists—rectifier. In 1906, inventor Lee de Forest added a third element to the bulb and found that the resulting triode could be used as both a switch and an amplifier. Today, the vacuum tube has evolved to include a complex assembly of plates, grids and heating elements that produce a more efficient part. Read more