Bogner Alchemist Guitar Amplifier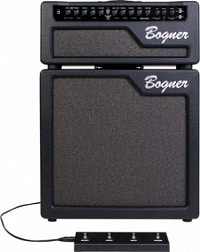 If you're looking for the classic American amp sound, the Bogner Alchemist line has something for everybody. Whether a head and cabinet is what you're after or a more portable combo, there's an Alchemist for you.
Both start with two 6L6's in a 40 watt Class AB power section. A 20 watt variac mode not only reduces the power but delivers a slightly brown sound. The head and the combo have two channels with independent EQ, volume and gain controls. Channel 1 (labeled Gold) delivers everything from silky clean tones to simmering blues as the gain is turned up. With the Crunch mode engaged, you're in AC/DC territory. Channel 2 (labeled Mercury) punches out the molten hi-gain tone that made Reinhold Bogner's amps famous.
Further tone-shaping for single coils or humbuckers is an additional feature on both channels. The Gold has variable Bright and Deep switches, while the Mercury offers Bright and Mid Shift. No matter what guitar you use, its natural tonal characteristics can be reproduced accurately.
The parallel effects loop in the Alchemist line has an adjustable level. Reverb and Delay are on tap in their own circuit and available in a couple of different flavors. Choose from Plate/Spring/Hall for Reverbs and Ducking/Analog/Tape for Delays. Each has its own independent level control. There are just enough options to give life and depth to your sound, without offending the purists. A four-button footswitch allows the Effects to be engaged, as well as a Boost and the ability to select channels. The Boost has just enough volume and grit to put solos over the top.
The retro-looking Alchemist cabinets are all open-backed and use Celestion speakers. The 1×12 combo comes with a Vintage 30, while the 2×12 combo has a diagonally-mounted G12M Greenback and a G12H Anniversary speaker. The matching 2×12 extension cabinet also uses the Greenback and G12H speaker combination.
To sum up the Bogner Alchemist, from Bogner's official website:

Inspired by the voicing of classic Californian amplifiers, Alchemist embodies a modern approach to vintage designs. From Reinhold Bogner's sophisticated arrangement of simple circuits, currents, metal and wood, rich tones emerge.
Gear used:
"Manic" – Justin Derrico nearly bursts into flames conjuring this white-hot tone thats dripping with juice and bursting with pick response.
Justin Derrico (Pink)
Gibson Les Paul
Bogner Alchemist Head with closed-back Bogner 4X12 cabinet
Effects: Onboard amp effects and Cry Baby wah
Recorded with an AEA R88 stereo ribbon mic into ProTools.
Bogner Alchemist
"Manic" – Performed by: bogneramplification

End Line
If a lot of punch and versatility is what you're after, Alchemist has it in several no-nonsense packages. The Bogner Alchemist combo can be had for a very modest price at $1,399………………….Check for Hot Buys!